ANTHGS02: Critical Issues: Theory, Ethnography and Professional Practice (TEPP)
Academic Year 2013/14
Archived
Course Tutor: Allen Abramson a.abramson@ucl.ac.uk Term 2 list only.
This list relates to the academic year Academic Year 2013/14 which ended on 01/07/2014
This list has been archived
This course explores anthropological contributions to professional practice in a range of fields. Examining the development of anthropology as a discipline and a profession, the course goes on to considers the relationship between 'pure', the 'radical' and the 'applied' anthropology, and the emergence of social science as a site of professional expertise. Moving beyond the study of 'traditional' forms (such as kinship, kingship and ancestral ritual), anthropology now considers contemporary social forms of organisations (e.g. networks and clusters), practices of professionalization, expertise and governmentality, non-governmentality and 'third sector' phenomena. Here culture and community may be reframed as policy problems or as complex fields of professional engagement, while anthropological understandings of 'traditional' exchange can offer insights into late modern economic relations (ethical and 'irresponsible'. This course will consider how some of these relations play out, and what contributions anthropology can make to their understanding and practice, considering topics including international development, education, migration, environmental resources, and the arts.

Theory and Ethnography in Professional Practice (TEPP) is one track of the second part of 'Critical Issues', the MSc Social Anthropology core course. The course is taught through a single 2 hour seminar which may include mini-lectures, small group work, presentations, debates as well as whole class discussions. The course is convened and taught by Allen Abramson, with guest lecturers invited to discuss professionally relevant aspects of their areas of research specialisation.

Students should attempt to bring a written point or question to each seminar for discussion, based on the readings and/or professional experience.

Learning outcomes

By the end of this course students should be able to:

Consider how anthropological theory and practice has provided insights into professional practice in a range of fields.
Understand the history and consequences of anthropological engagement beyond academia.
Assess how anthropological theory and method may be able to contribute to particular professional practice in different fields.
Analyse how the theoretical debates and methodological issues that professional anthropologists are engaged in and contribute to may provide insight into their professional worlds.
Consider critically the use of anthropological concepts in professional practice
Construct and present arguments about anthropological contributions to professional practice in different fields using appropriate theoretical and ethnographic insights.

The course will be assessed by a 3000 word essay due Noon 23rd March 2013 and as part of the Critical Issues unseen exam at the start of the Summer term.

Week 1 ( 8/1) Introduction: what is the course about? AA

Week 2 (15/1) The Pure, the Applied and the Professional (and the Radical!) AA

Week 3 (22/1) Organisation and its transformations AA

Week 4 (29/1) Environment and Development Prof. Phillip Burnham

Week 5 (5/2) Arts and Theatre Martin Holbraad

Week 6 (12/2) READING WEEK

Week 7 (19/2) Anthropology, Education and Professional Practice Luke Freeman

Week 8 (26/2) Marc Brightman

Week 9 (5/3) Cressida Jervis-Read

Week 10 (13/3) Symposium: Alterity and Professional Worlds. Two Anthropologies or One? ('Hot Debate' for the Newsletter, Anthropolitan)

Week 11 (18/3) READING WEEK

Submit term paper Noon, Friday 22nd March 2012.

WEEK ONE (10/1): Introduction to the course (AA & CJR)

0 items

In this seminar we will discuss some of the themes that run through the course, its structure, organisation and requirements.

WEEK TWO (15/1): Anthropological Trajectories: the Pure, the Applied and the Professional (and the Radical!) (AA & CJR)

18 items

Essay question: What role has anthropology played in modern Western contexts? What role can it – and should it – play today?

Key Readings: (for seminar)

3 items

"Anthropology and the Crisis of the Intellectuals" - A Grimshaw 1993/1996

Article (shorter version as "The Rise and Fall of Scientific Ethnography" in A.S.Ahmed & C.N.Shore (eds) The Future of Anthropology. Its Relevance to the Contemporary World Athlone Press London

ZERO ANTHROPOLOGY: A contemporary radical blog

Webpage See especially "Patricia Omidian: Applied Anthropologist in Afghanistan, on the Human Terrain System" http://zeroanthropology.net/2009/08/05/patricia-omidian-applied-anthropologist-in-afghanistan-on-the-human-terrain-system/

Further Reading (for seminar & essay)

3 items

Supplementary Reading:

11 items

Claude Lévi-Strauss: the poet in the laboratory - Wilcken, Patrick 20100747583625,9780747583622

Book (See also excellent book review by Adam Shatz "Jottings, Scraps and Doodles" pp3-7 London Review of Books 3rd November 2011 (Both offer a readable intelligent profile of the nature and role of structuralist anthropology and a probing portrait of its arch-exponent)

Social Analysis - Andrew Strathern and Pamela J. Stewart 2001

Journal Social Analysis Issue 45(2) Special Issue on Anthropology & Consultancy eds A. Strathern & P. Stewart (see JStor for electronic copy)

WEEK THREE (22/1): ORGANISATION AND ITS TRANSFORMATIONS (AA)

21 items

This seminar considers the nature and transformation of modern organisation as well as the various ways in which anthropology and kindred disciplines have conceptualised 'organization'. The focus will be upon what 'organisation' is, how it seems to flatten, unravel or intensify according to conditions, and how such transformation changes the nature of anthropological engagement at the point of institutional practice. A particular focus will be upon the impact upon organisation(s) of high levels of uncertainty produced by neo-liberalism, postmodernity and/or hypercomplexity (depending upon your stance).

Essay question: Discuss some of the principal ways in which organizations transform in late modern contexts, and to what significant effect(s)? Discuss with reference to both theoretical and ethnographic accounts.

From Robbins to McKinsey - S Collini 2011

Chapter (short readable review of the transformation of the UK university under neo-liberal conditions)

Realizing the university in an age of supercomplexity - Barnett, Ronald, Society for Research into Higher Education 20000335202489,0335202497,9780335202485

Book Ch10 "Constructing the University" pp127-139 Education (same outlook as Stacey re organization, complexity, uncertainty and management)

WEEK FOUR (31/1) : CONTEMPORARY ISSUES OF MORAL ECONOMY: CSR AND FAIRTRADE

12 items

In this session we will explore contemporary moral economy issues by looking in detail at corporate social responsibility and more particularly, at Fairtrade. We will consider how attempts to forge systems of ethical production and ethical consumption work out in practice and we will contemplate broader questions regarding the social embeddedness of the economy and the (im)morality of the market.

Required Reading:

4 items

WEEK FIVE (5/2): ETHNOGRAPHIES OF CREATIVE INDUSTRY (Martin Holbraad)

24 items

This session is devoted to exploring the ways in which ethnographic research sheds light on the range of activities that comprise the work of so-called Creative Industries. The session is articulated around Sherer and Holbraad's anthropological researches on theatrical production – Sherer is a theatre director and producer with a background in anthropology who is currently conducting anthropological research on the 'work' of theatre in the UK and US; while Holbraad is an anthropologist working with theatrical groups in London: together they are currently collaborating on ethnographic research with Sherer's own theatre company in London. Placing this research in the context of longstanding anthropological concerns about the role of performance in social life, the session objective is to explore the ways in which ethnographically-led anthropological research might shed light on the professional aspects of creative production. Of particular interest is the range of ways in which anthropological insight may (or may not) feed into the process of theatrical (and implicitly all artistic) creativity itself. How, we ask, does anthropological creativity relate to the creative labour of theatre professionals; and what impact might this have (if any) on articulating an appropriate anthropological 'theory of art'?

Essay question: What might an ethnographer 'see' in the processes of creative production, and how might this relate to what most matters to those involved in them?

On failure and performance - E Schieffelin 19960415912008,0415911990

Chapter in Laderman C and Roseman M 1996; The Performance of Healing Routledge London and New York

Ritual, performance, media - Hughes-Freeland, Felicia, Association of Social Anthropologists of the Commonwealth 19980415163374,0415163382

Book

WEEK 6: (14/2) READING WEEK

0 items

WEEK 7 (21/2): THE ANTHROPOLOGY OF EDUCATION (Luke Freeman)

4 items

This session focuses on the two basic issues in the anthropology of education:

1) ‪what is taught in schools and how it is perceived by learners?

2) ‪why some types of people succeed at school while others fail?

These two issues are also fundamental to any educational policy or strategy aiming to improve education provision or address social inequality through the classroom. In anthropological thought, the first issue relates to wider theoretical questions about what kind of thing knowledge is, and how school knowledge might be different from other kinds of knowledge. The second issue relates to the classic sociological problem of how the class system reproduces itself.

The readings for this seminar are three well-known contributions to the anthropology of education which relate in different ways to these central questions.

The uses of literacy in a Zafimaniry village - Maurice Bloch 19930521401674

Chapter in B. Street (ed.) Cross-cultural approaches to literacy. Cambridge: CUP. pp. 87-109 (Also published in Bloch, Maurice (1998) How we think they think: anthropological approaches to cognition, memory and literacy. Boulder, Colorado: Westview Press.)

WEEK FIVE (7/2): Flexible citizenship or social disembodiment? An anthropology of migrants.

23 items

This topic explores the specific contribution that anthropology has made and continues to make to the understanding of the phenomenon of migration in general and the practices, understandings and experiences of migrants in particular.

Essay question: Is there a difference between studying migrants and studying migration?

Further Reading:

16 items

Lecture 1: What is kinship?

3 items

Lecture 2: Descent and alliance

3 items

Lecture 3: Kin, house and body

3 items

Lecture 4: Kin-based societies

3 items
All rights reserved ©
Profile Required
Reading intentions and notes are stored against your user profile. Please create a profile to use this feature.
My notes
You must be logged in to add a note
What are item notes?
You can use item notes to make personal notes on any of your reading items. Notes are private to you and will not be shown to other users.
You can review your item notes from the list, the item page or from your profile page.
---
How do I create an item note?
To make notes, first you must be logged in. Once logged in, simply click Add note? next to the list item you wish to make notes on. You can also make notes at the bottom of every item's detail page.
Your note will be saved automatically as you type.
Have you read this?
You must be logged in to set a reading intention
What are reading intentions?
Setting up reading intentions help you organise your course reading. It makes it easy to scan through your lists and keep track of progress. Here's an example of what they look like: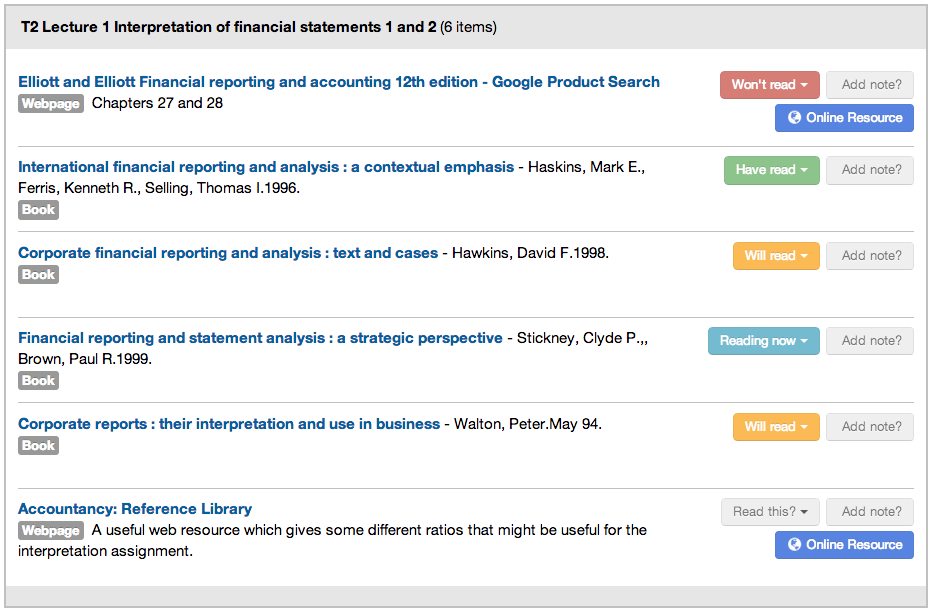 Your reading intentions are also stored in your profile for future reference.
---
How do I set a reading intention
To set a reading intention, first you must be logged in. Once logged in, click Read this? next to the list item you wish to set a reading intention for.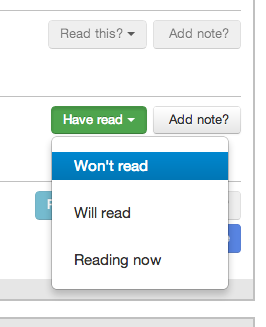 You can also set the reading intention from every item's detail page.