ARCL2038: Research and Presentation Skills: Andrew Bevan
Academic Year 2012/13
Archived
Description: Undergraduate: Year 2 core: 0.5 units
This list relates to the academic year Academic Year 2012/13 which ended on 31/07/2013
This list has been archived
Introductory readings: basic texts

14 items

Archaeology by design - Black, Stephen L., Jolly, Kevin c20030759100209,0759103976,9780759100206,9780759103979

Book Essential

How to research - Loraine Blaxter, Christina Hughes, Malcolm Tight 2010

Book Essential
The following are for your guidance only and are not an exhaustive list. You are expected to identify and utilise other resources not listed here for your assignments.
Archaeology by design - Black, Stephen L., Jolly, Kevin c20030759100209,0759103976,9780759100206,9780759103979

Book Recommended ESPECIALLY CHAPTER 6 (DEVELOPING YOUR RESEARCH STRATEGY), CHAPTER 7 (THE WRITTEN RESEARCH DESIGN) AND CHAPTER 8 (PUTTING YOUR RESEARCH DESIGN TO WORK).

How to research - Loraine Blaxter, Christina Hughes, Malcolm Tight 2010

Book Recommended

Managing archaeology - Cooper, M. A., Theoretical Archaeology Group (England) 19950415106745

Book Recommended CHAPTER 12 (PREPARING ARCHAEOLOGISTS FOR MANAGEMENT) AND CHAPTER 13 (THE MANAGEMENT OF ARCHAEOLOGICAL PROJECTS)

Writing ethnographic fieldnotes - Emerson, Robert M., Fretz, Rachel I., Shaw, Linda L. 19950226206807,0226206815,9780226206806,9780226206813

Book Recommended

Website Recommended Electronic resource

Presenting the past - Zimmerman, Larry J. c2003075910025X,0759104034,9780759100251,9780759104037

Book Recommended
All rights reserved ©
My notes
You must be signed in to add a note
What are item notes?
You can use item notes to make personal notes on any of your reading items. Notes are private to you and will not be shown to other users.
You can review your item notes from the list, the item page or from your profile page.
---
How do I create an item note?
To make notes, first you must be signed in. Once signed in, simply click Add note? next to the list item you wish to make notes on. You can also make notes at the bottom of every item's detail page.
Your note will be saved automatically as you type.
Have you read this?
You must be signed in to set a reading intention
What are reading intentions?
Setting up reading intentions help you organise your course reading. It makes it easy to scan through your lists and keep track of progress. Here's an example of what they look like: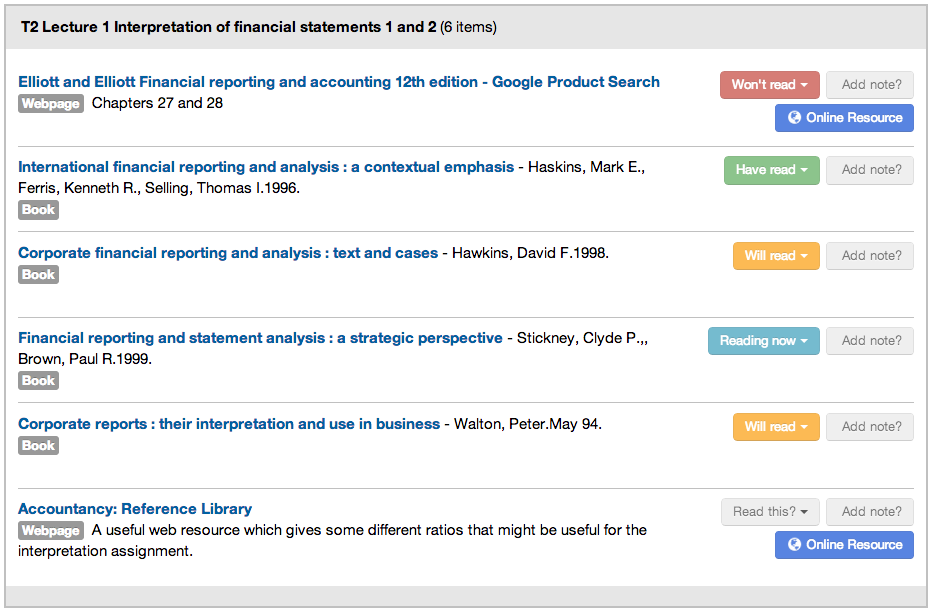 Your reading intentions are also stored in your profile for future reference.
---
How do I set a reading intention
To set a reading intention, first you must be signed in. Once signed in, click Read this? next to the list item you wish to set a reading intention for.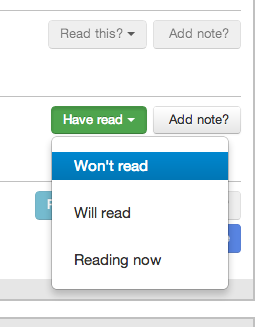 You can also set the reading intention from every item's detail page.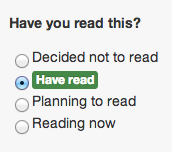 Profile Required
Reading intentions and notes are stored against your user profile. Please create a profile to use this feature.