ANTH3030: The Anthropology of Nationalism, Ethnicity and Race: Dr Galina Stjepanovic
Academic Year 2017/18
Archived
This list relates to the academic year Academic Year 2017/18 which ended on 20/07/2018
This list has been archived
ANTH3030 : The Anthropology of Nationalism, Ethnicity and Race : Galina Stjepanovic

5 items

Lecturer: Dr Galina Oustinova-Stjepanovic

Office:

Email: ucsagou@ucl.ac.uk

Student feedback and consultation hours: tbc once my timetable is finalized and by appointment.

Lecture Location: Taviton 16, Room 347


Lecture Time: Thursdays 11-13

Tutorials are held on Fridays

Tutorial One: Gordon Square 16-18, G09; Fridays 11-12

Tutorial Two: Gordon Square 16-18, G09; Fridays 11-12

Tutorial Three: Taviton 14, Room 132; Fridays 13-14

Tutorial Four: Taviton 16, Room 346; Fridays 14-15

Tutorial Five: Taviton 16, Room 346; Fridays 15-16

This course examines the concepts and practices of 'ethnicity,' 'race' and 'nation,' as bases of social and political belonging and differentiation, as sources of both comfort and conflict. The focus will be on the creation and reworking of categories and forms of identification in different places. We start with the premise that nationalism, race and ethnicity are socially constructed and emergent forms of affiliation rather than substantial entities. Nationalism, race and ethnicity will be studied, seeking to understand them as concrete relational processes unfolding in the historical contexts in which they have developed. The topics include patriotism and treason, ethnic mimicry, black feminism, indigenous identity politics, ethnic food, whiteness, globalization, anarchism, human rights, religion and secularism. The implicit objective of the course is to revise a few key notions in anthropology, such as culture and alterity, and to highlight some conceptual biases that plague critical thinking and research agenda today. As such, the course is not limited to the specialized fields of nationalism, race and ethnicity but has a broader relevance to anthropology and social and political sciences.

The format of the course relies on both lectures with some student participation and discussion during the tutorials. All students are required to engage in critical analysis of the required readings and contribute to seven wiki pages that are set up on moodle. Each wiki page will attempt to collectively answer a specific question relevant to the week's topic. The question might be academic or more urgent, inspired by current events and newspaper headlines. During the lectures, we will watch excerpts from different documentary films and online videos.

Readings consist of a variety of articles and book selections. The readings are primarily anthropological but we will peruse a few classics from political theory, feminist writings, culture studies and history. For each week there are THREE REQUIRED readings, some more conceptual but at least one of them will present an exciting ethnographic case that has been selected to exemplify theory. The required readings (articles and book chapters) are digitized and available to read online or to print. Additional recommended readings will appear on your library reading list. Please note that I will be adding further readings throughout Term One, so the library list will be live and continuously updated. You might find the additional readings useful when it comes to writing your essays. However, not all additional readings will be digitized.

The readings can be found in:

1) online

2) main collection in UCL libraries

3) other London libraries, especially the British Library (you need to register).

ASSESSMENT AND REQUIREMENTS

1. You are required to complete each week's readings prior to your tutorial. The key readings will be integrated in the lecture but we will discuss them critically during the tutorials.

2. There is no exam in this course. The course will be assessed by two essays, each worth 50% of the final grade.




IMPORTANT ESSAY INFORMATION:

· The first essay is theoretical. You will need to do literature review. For the second essay, you will need to do some participant observation and interviews. You will be asked to explore the links between food and ethnic belonging. Your fieldwork site can be an ethnic restaurant, shop, street market stall, or any other risk-free setting where ethnicity and food are served as one dish. You will be provided with more information and guidance during one of your tutorials.

· Essays should be 2000 words

· All essays must double-spaced, well-edited, spell-checked, and written in a literate, grammatical style.

· All essays also must be sent electronically via Turnitin on the course Moodle site. MOODLE- ANTH3030 (THIS IS THE COURSE KEY CODE FOR ENTRY)

· Your marks will be on moodle within 4 weeks.

· The assessment requirements for each essay are available on moodle. I rely on the general criteria for a good essay available in your student handbook but I also have specific expectations that I have outlined in great detail in the pdf document titled ESSAY ASSESSMENT.

· First Essay due: Friday, November 13th, at 23.59 (by midnight)

· Second Essay due: Friday, December 18th, at 23.59 (by midnight)

1. WEEK ONE (Oct 8): Introduction

13 items

Introduction to the requirements and themes of the course, followed by a brief historical overview of the genealogy of nationalism, harking back to the philosophical traditions of Enlightenment and Counter-Enlightenment. Why should we study race, ethnicity and nationalism together? What is the affinity between them? This week introduces students to a number of important theoretical issues and exploring how the terms nationalism, ethnicity and race have been used in anthropology and related fields. We will conclude with a methodological consideration of the possibility of critical study of nationalism.

What is a nation? - Ernest Renan 1990

Chapter Essential 1990 edition - further copies in the library

Waiting - Ruth Visser

Chapter Digitised reading

2. WEEK TWO (Oct 15): Natural Nations

17 items

What are the origins of nation-states? Are there ancient and new nations? How do people come to think of themselves as part of a nation? Are they a necessary ideal for the group and what constitutes a group in the first place? How do nations become plausible and persuasive? And what constitutes treason? We will review the classical theories of primordialism, ethnies, imagined communities and explore how nations become felt, experiential worlds charged with political and ethical dilemmas.

Past glories, present politics - Michael Herzfeld0918618320

Chapter This reading is also available in the Science Library Teaching Collection (see reading below)

Past glories, present politics - Michael Herzfeld0918618320

Chapter This reading is available in the Science Library Teaching Collection - SCIENCE 6420

3. WEEK THREE (Oct 22): Ethnicity.

20 items

This seminar adopts a constructivist approach to ethnicity as an agentive historical process of categorizing people. How do ethnic categories come into being? What is erased in the process? If ethnic categories are constructs, are they counterfeit? What does it mean to be of a particular descent? Is ethnicity a commodity for sale? We will discuss how ethnicity, a political performance, has been naturalized as an obvious ground for human relations. We will look at these complex issues through multiple ethnographic examples and revisit a staple ethnographic notion of culture to find out the implications of coupling culture and ethnicity for our understanding of diversity.

4. WEEK FOUR (Oct 29): "Race" and the process of racialisation.

24 items

This week our focus is on race. Is race rooted in human biology or culture? How is race constructed in relation to the blackness of skin? Finally, if race is an obsolete category of anthropological analysis (as some have argued), how can we account for enduring, sometimes unwitting forms of racism, such as sexualizing blackness or colourblindness? The case-studies offer an opportunity to explore ethnographic particularities and historical change and continuity in attitudes towards "race" and racism.

5. WEEK FIVE (Nov 5): Identity

9 items

Identity is a pervasive compound of categories such as national identity, ethnic identity, racial identity. Yet, there is a caveat to its unreflective usage. Stuart Hall in Radical America (1989) asked if identity is a kind of true self (are you really Black? Are you really Jewish?). Indeed, the language of identity is related to the search for authenticity, origins, roots, descent. But, what is that self: a perpetual signifier, wandering, pluralistic void? Identity might be reconceptualised as a process of identification, a historical subjectivity but also a play of difference. Is identity a useful concept in anthropology? Are we better served with other terms? We will critically examine the fallacy of using identity as an explanation of power relations and claims to political identities which entail a provisional closure of instabilities of belonging. We will argue that identity is confused for a cause when it is a story we tell ourselves about ourselves but a story without profound, sometimes grim consequences.

6.WEEK SIX : reading week beginning Monday, November 9th

1 item

7. WEEK SEVEN (Nov 19): Food, Ethnicity and the Production of Difference

14 items

We will explore how people create and maintain collective and subjective boundaries through food. First, we will investigate how food constitutes a corrective to intellectual theories of nationalism by emphasizing its sensual qualities. Rather obviously, food plays an important role in cultivating and maintaining a sense of ethnic and national belonging. It is also crucial in fueling an attachment to 'home' and its transformation as a result of migration, advertising, or social aspirations. However, this lecture has more teeth, so to speak. What about practices of cannibalism and predation?What is at stake in ingesting and assimilating other people or their food? This is an invitation for you to think about food as a technique of alterity, a relation to strangers.

8. WEEK EIGHT (Nov 26): Religious Nationalism

25 items

The easiest way to conceptualize religious nationalism is by separating people into groups mobilized as social movements. The most important question is what is religious about religious nationalism? Does integrating religious symbolism, idioms and myths into nationalist discourses justify the name 'religious'? What happens to religion when it becomes a setting for political relations? Is it conceptually sound to separate religion and politics as overlapping fields of practice? Are they different orders of reality? Why some religious formations, especially Judaism and Islam, are demonized as incompatible or celebrated as essential for national projects of unity in different contexts? This is a challenging lecture as we revisit controversial theories of religion and secularism, public sphere and liberal governance. My specific regional focus is the Middle East.

9. WEEK NINE (Dec 3): Whiteness.

18 items

Many studies of 'race' take whiteness as self-evident. It is an implicit frame of reference. Is whiteness invisible? Unploblematic? How can 'whiteness' be unproblematic if it continues to be a location of privilege? Maybe it is simply boring at the time when some 'ethnic' subcultures garner a sense of cool? Who and under what conditions is perceived as white? Can affirmation of whiteness be studied as a non-racist phenomenon? What is it like to be white in South Africa? We will explore the neglected problem of whiteness from multiple perspectives. How do white people seem themselves and are seen by black persons? How do indigenous people in Papua New Guinea or Latin America see white people? Why do black people in West Africa wear white masks during their carnivals? What hope and tragedy informs desires to be 'white'? This lecture is crucial for understanding 'whiteness' as an ethnographic category and for honing our reflexivity skills.

The lightness of white men - Ira Bashkow0226038904,0226038912,9780226038902,9780226038919

Chapter This reading is also available in the Science Library Teaching Collection (see reading below)

The lightness of white men - Ira Bashkow0226038904,0226038912,9780226038902,9780226038919

Chapter This reading is available in the Science Library Teaching Collection: SCIENCE 6423

10. WEEK TEN (Dec 10): The Death of the Nation-State

20 items

What are the challenges to the notion of a bounded, territorially marked nation-state? It is a popular argument that today's world is that of connectivity. Connectivity usually refers to new media technologies, globalization, cosmopolitanism, international institutions and supranational organizations, as well as migration, travel and so on. Does it mean that the nation-state is in crisis? In fact, much talk about the death of the nation confuses a nation as imagined community with a nation-state a political configuration. I have moved from traditional topics like migration to the studies of human rights and anarchism because they help us explore the porousness and historicity of nation-states in novel ways. Again, we will grapple with the issues of cultural essentialism and relativism that have underpinned the whole course.

AND read any ONE of the following for our class discussion and bring your AQCI to the tutorial (200 words max). Be prepared to talk about the piece you have read in class.
All rights reserved ©
Profile Required
Reading intentions and notes are stored against your user profile. Please create a profile to use this feature.
My notes
You must be logged in to add a note
What are item notes?
You can use item notes to make personal notes on any of your reading items. Notes are private to you and will not be shown to other users.
You can review your item notes from the list, the item page or from your profile page.
---
How do I create an item note?
To make notes, first you must be logged in. Once logged in, simply click Add note? next to the list item you wish to make notes on. You can also make notes at the bottom of every item's detail page.
Your note will be saved automatically as you type.
Have you read this?
You must be logged in to set a reading intention
What are reading intentions?
Setting up reading intentions help you organise your course reading. It makes it easy to scan through your lists and keep track of progress. Here's an example of what they look like: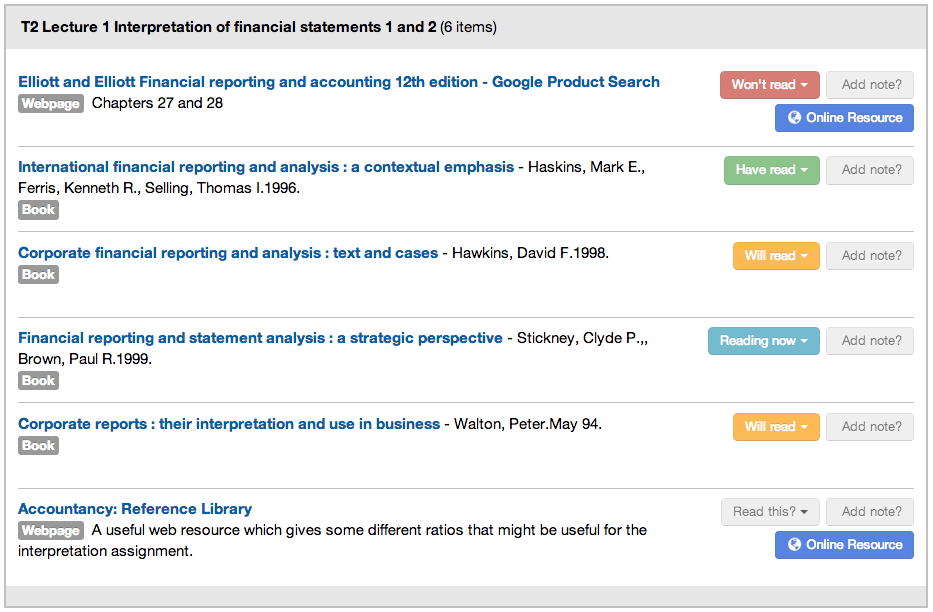 Your reading intentions are also stored in your profile for future reference.
---
How do I set a reading intention
To set a reading intention, first you must be logged in. Once logged in, click Read this? next to the list item you wish to set a reading intention for.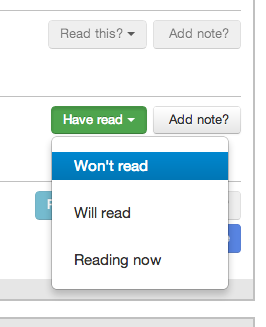 You can also set the reading intention from every item's detail page.