ANTH7032: Humans, Ecosystems and Conservation
Academic Year 2017/18
Students are expected to read the 'essential readings' under the lectures and tutorials each week in time for the tutorial. Other tutorial readings will be allocated on a week by week basis.

General literature

6 items

Some relevant books that you may want to look at. Particular chapters are highlighted in specific weeks.

Conservation biology for all - Navjot S. Sodhi, Paul R. Ehrlich 20090199554234,0199554242,9780199554232,9780199554249

Book Available online for free at: https://conbio.org/publications/free-textbook/ good short chapters on key topics in conservation - from a more natural science perspective

The Big Conservation Lie - John Mbaria 15 Mar. 20170692787216

Book a recent (and polemical) critique of the African conservation paradigm and its colonial roots

Lecture 1 Historical & contemporary human impacts on ecosystems & biodiversity

19 items

After a general introduction to the course, we will begin by taking a broad scale examination of humans as drivers of ecosystem change and biodiversity loss, from prehistory to the present day. We look at patterns, and the direct and indirect causes. We will focus in on how human use of fire has shaped ecosystems, and the impacts of introduced species. We will examine the scientific evidence for human-induced extinctions in the Pleistocene, with waves of colonization, and in the current era. Are the impacts on ecosystems and the climate so dramatic that we should consider ourselves in a new epoch – the Anthropocene? What implications does this have for how conservation is defined?

Tutorial 1 evidence for historic and contemporary human induced extinctions

14 items

Think about: - the evidence of human on biodiversity and ecosystems through time; - what is the evidence that impacts are attributable to earliest human colonists? - what issues remain in debate? - how have later waves of colonisation impacted ecosystems? - what factors make certain species vulnerable to extinction? - what is the evidence for and levels of uncertainty around current rates of extinction? Has the sixth mass extinction arrived?

Lecture 2 Conservation: definitions, history and current practices

11 items

This week we look at how conservation is affected by different understandings of what nature is, and how ecosystems work. We examine the question of what constitutes 'conservation' by humans. Thirdly, we trace the historical roots of the modern conservation movement from its colonial roots and the preservation of wilderness, which continue to influence thought and practice today in the form of protected areas, to sustainable use, and broader ecosystem approaches and community-based conservation. Conservation is not a monolithic whole, and the lecture will focus on the shifting configuration of institutions, philosophies, trends, and interventions aimed at modifying human behaviour.

Tutorial 2 What are conservationists trying to conserve, how and why?

8 items

Think about the following: - how is nature conceptualised by conservationists and how does that affect the practice of conservation? - how have these ideas changed through time? - including ideas of nature vs culture, wilderness, and more recently biodiversity and ecosystem services - what are the different philosophical bases for conservation and how do they affect its practice?

Lecture 3 Managing the Commons

10 items

Effective interventions for sustainable ecosystem governance require understanding human behaviour and decision-making. We look at three theoretical perspectives for understanding conservation behaviour and environmental change. Predicated on rational action, evolutionary ecology and micro-economics have been used to study how individuals use resources. The 'tragedy of the commons' is the classic way to envisage the vulnerability of open access resources to overexploitation, but this assumes that individuals act unguided by expectation, rules and institutions. Instead, common property regimes governed by informal institutions which deal with non-cooperation have been shown to successfully sustainably manage resources. Through the lens of political ecology we situate these local institutions within larger political and economic spheres.

Political ecology: a critical introduction - Paul Robbins 20120470657324,9780470657324

Book Recommended Chapter 1 (Introduction); Chapter 8 (on environmental degradation); Chapter 9 (on conservation and control)

Tutorial 3 Wildlife hunting

11 items

Wildlife is an important source of protein and income for millions of people. Species are becoming threatened as demand increases in urban population and globally for meat, luxury products and medicines. Focusing on the bushmeat and illegal wildlife trade in Africa, we look at the factors driving harvesting of species, the economics of exploitation, and sustainability of current patterns. Think about - the economic, cultural and political factors driving harvesting patterns; - how sustainability is understood; - the relationship between poverty and exploitation; - the effectiveness and impacts on communities of current strategies to reduce over-exploitation; - how institutions for sustainable management can be developed.

Essential readings

2 items

INSTITUTIONS AND THE ENVIRONMENT - Elinor Ostrom 09/2008

Article Essential An accessible overview of Ostrom's work on institutions for CPRs, translating her eight design principles to less prescriptive questions

Recommended readings

9 items

choose one of these

Lecture 4 Pastoralist ecology and resource management institutions

13 items

The lecture will introduce the human ecology of pastoralist systems around the world. We will look at pastoralist land management strategies and how rangelands have been managed as common property regimes. Pastoralist systems have generated huge debate about ecosystems, sustainable use and conservation. We will look at how the ways in which ecosystems are modelled and envisaged to function work alongside political interests to shape environmental policy. Focusing in on two groups (Maasai and Tibetans) will look at the kinds of social, economic and environmental challenges that pastoralists are facing, and how they are adapting their livelihoods and lifestyles.

Ecology of African pastoralist societies - Katherine Homewood c20080852559917,0852559909,0821418408,0821418416,9780852559918,9780852559901,9781868885312,9780821418406,9780821418413

Book Recommended Chapter 3

Tutorial 4 Case studies on pastoralism: Maasai and Tibetans

12 items

Read the essential reading and at least one paper on one of the case studies. Think about - theory and evidence for rangeland dynamics and degradation; - how pastoralists are adapting and changing their livelihoods; - how environmental, social and policy changes have impacted upon pastoralist institutions, well-being and ecosystems.

Essential readings

1 item

Maasai case study

6 items

Tibetan plateau case study

5 items

Lecture 5 'Traditional ecological knowledge' and indigenous peoples

21 items

The concept of 'traditional ecological knowledge' often promotes indigenous people as models of conservation. This week we look at how indigenous peoples and the conservation agenda have become intimately linked. We examine the concept of indigeneity and the politics involved and trace the changes in conservation policy and practice regarding indigenous peoples. We look at how different scholars have understood indigenous knowledge and the complexities involved in efforts to link scientific and local knowledge systems in natural resource management.

Tutorial 5 indigenous knowledge & conservation

10 items

Read the essential reading and one or two others (distribute them in your tutorial group so you're not all reading the same thing!). Think about: - how and if indigenous ecological knowledge differs from scientific knowledge - the aims, benefits of projects aiming to integrate knowledge types and produce co-management arrangements - the power and politics and outcomes of such projects - the potential for more socially just processes of engagement with indigenous knowledge and peoples for sustainability

Some promising examples

4 items

Lecture 6 Pro-poor and community-based conservation

19 items

Lecture 6 Pro-poor and community-based conservation Patterns of biodiversity are skewed towards rural areas of the Global South, with implications for the social justice of conservation. The question of how to reconcile conservation and human development is a key policy issue. But how does the concept of 'win-win' or pro-poor conservation really play out in practice? This lecture will look at the theory behind community-based natural resource management (CBNRM), and the evidence for how they work on the ground. We will also explore the broader concepts of human well-being and equity/justice as holistic models of social development.

Tutorial 6 The realities of community-based natural resource management

17 items

Think about: - how CBNRM is conceived and then how it plays out on the ground; - the politics of participation; - what is the community in CBNRM? - who benefits and who loses? - the potential for a refocus on equity and justice to support better outcomes for people and biodiversity Read the essential readings and choose a paper from the case studies. If you are focusing on this topic for the exam, read papers from one or two of the case studies.

Case study 1: Community forest management in Tanzania

5 items

Case study 2: Wildlife Management Areas in Tanzania

5 items

Case study 3: Conservancies in Namibia

5 items

Lecture 7 Ecosystem services & the biodiversity economy

18 items

This week will look at the neo-liberalisation of nature and the emergence of 'ecosystem services' as a dominant way to talk about nature. Environmentalists are divided among those who accept monetary valuation of ecosystems as a pragmatic solution, and those who reject it on ethical grounds. We will look in more depth at two types of market-based conservation instruments: payment for ecosystem services (PES) and biodiversity offsetting. Are PES schemes creating new sources of finance for low income countries or 'crowding out' other incentives for conservation? What are the practical and political challenges that these interventions present, and what the implications for society's relationship with non-human nature?

Tutorial 7 Market-based approaches to conservation

13 items

For each type of approach: think about - the practical, conceptual and political challenges of implementing these projects; - the evidence for ecological effectiveness; - the implications for equity and justice. If you're planning to focus on this topic for the exam, you can focus on the literature for either offsetting or PES, but have a good understanding of the key debates in market-based conservation more broadly.

Biodiversity offsetting

6 items

Payment for Ecosystem Services

6 items

There is a huge amount of literature on PES - here are some key theoretical and empirical papers. The key issues around PES are highlighted in the lecture.

Lecture and tutorial 8 Conservation conflict & decision-making + preparation for the negotiation exercise

17 items

The course finishes with a broader look at how decisions about natural resource management and conservation are made. There have be increasing calls for policy in conservation to be "evidence based" but does this naively ignore the politics involved in policy making and knowledge production? Conflict is the norm in environmental issues. We look, in particular, at the case of 'human-wildlife conflict' and discuss the potential for deliberative and participatory processes to foster the negotiation of solutions.

Lecture 9 Negotiation exercise

1 item

Literature useful for preparing for the negotiation exercise.
All rights reserved ©
Profile Required
Reading intentions and notes are stored against your user profile. Please create a profile to use this feature.
My notes
You must be logged in to add a note
What are item notes?
You can use item notes to make personal notes on any of your reading items. Notes are private to you and will not be shown to other users.
You can review your item notes from the list, the item page or from your profile page.
---
How do I create an item note?
To make notes, first you must be logged in. Once logged in, simply click Add note? next to the list item you wish to make notes on. You can also make notes at the bottom of every item's detail page.
Your note will be saved automatically as you type.
Have you read this?
You must be logged in to set a reading intention
What are reading intentions?
Setting up reading intentions help you organise your course reading. It makes it easy to scan through your lists and keep track of progress. Here's an example of what they look like: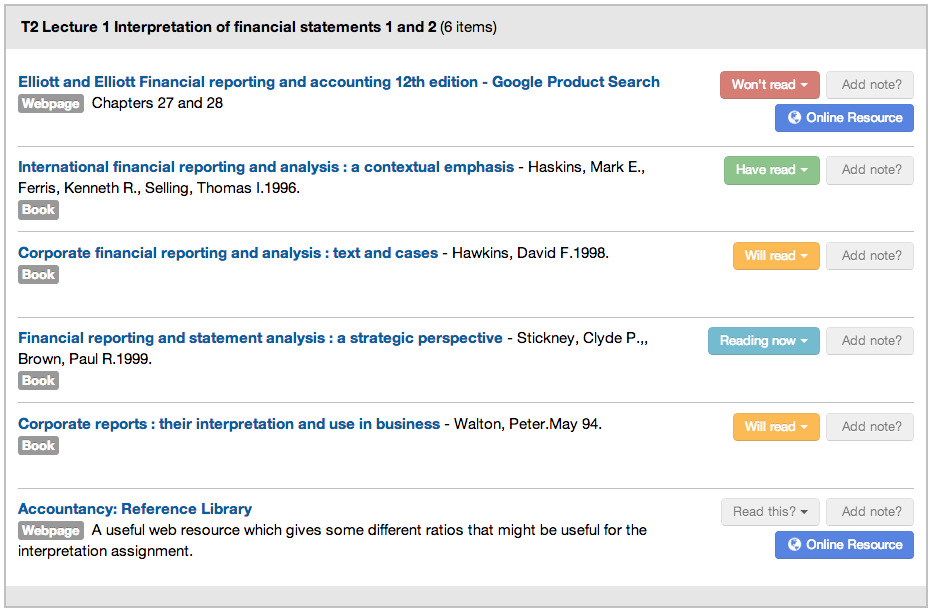 Your reading intentions are also stored in your profile for future reference.
---
How do I set a reading intention
To set a reading intention, first you must be logged in. Once logged in, click Read this? next to the list item you wish to set a reading intention for.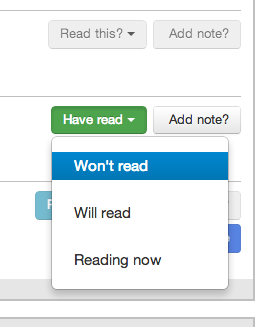 You can also set the reading intention from every item's detail page.