ANTHGS27: Alternative & Ritual Economies: Rebecca Empson
Academic Year 2012/13
Archived
This list relates to the academic year Academic Year 2012/13 which ended on 31/07/2013
This list has been archived
Alternative & Ritual Economies

ANTH GS27, Term 1, 2012

Dr Rebecca Empson (r.empson@ucl.ac.uk)

How do different economic modalities relate to other forms of social life, including religion and politics? This course covers the basics, from the formalist / substantivist debate and gift / commodity exchange, to recent work on ritual economies in post-socialist and post-colonial contexts, as well as the commodification of forms of care and intimacy in the West. In doing so we explore the relationship between the kinds of things being exchanged and the social relations produced out of these exchanges, as well as the circulation of different forms of value.
Course Requirements
1 item
This is a seminar-based course composed of two hours each week. You are expected to attend all the seminars and are welcome to record them to assist with personal study. Please note that seminars are obligatory and a register of attendance will be taken. After missing more than 2 seminars without good (written) reasons, you will be considered to have dropped the course and will be de-registered. There are no seminars during reading weeks.

There are different ways of preparing for seminars. For each seminar you must read at least two of the compulsory readings and be prepared to discuss them. Active Reading Forms (available from the course Moodle site) may be used to make notes and to aid class discussion. They are also useful for essay writing and revision. You may be required to give presentations.

The mode of assessment is a 3,000 word essay which you must submit before the final day of Term 1. Questions will be circulated during the course. Please see the online moodle site for UCL policy on plagiarism and advice on essay writing.
Week 1: Gifts & Commodities (1st October)
23 items
Since the distinction between gift and commodity, anthropologists have grappled with different kinds of exchange and their influence on social relations, ideas about personhood, value and power. But is the distinction between gift/commodity useful, or does it obscure more than it clarifies? As we explore the connections between persons and the objects they exchange, we will examine how classic definitions might be relevant to other kinds of goods and services such as those in transcultural migration.

Questions What is the distinction between gift and commodity and why is it useful? How have anthropologists theorised concepts of value? When might our terms fail to capture different notions of power, value and exchange? In what ways do gifts figure in the constitution of persons? How might migration, remittances, and global 'care-chains', transform different spheres of exchange? What kind of social relations are produced out of different forms of exchange?

Required Readings:

3 items
Further Readings:
19 items
Week 2: Formalist / Substantivist Debate
14 items
The formalist / substantivist debate was a dispute in economic anthropology between those who argued that formal rules of economic theory, derived from the study of capitalist market societies, could be used to explain the dynamics of pre-modern economies (formalists), and those who argued that goods and services in the substantive economy were produced and distributed through specific cultural contexts (substantivists). They argued that the strategising at the heart of neoclassical economics was characteristic only of market economies.

Questions

What might we learn from formal economic theory when looking at different ethnographic examples of exchange? Can these be usefully applied to non-capitalist forms of exchange? Are ideas about debt, value, welath and the market formed through specific cultural concerns and needs? Is the formalist/ substantivist debate of any use to current examples, or do we need to see beyond these kinds of distinctions and focus on local articulations of what counts as economics in particular contexts?

Required Readings:

3 items
Further Readings:
10 items
Week 3: Post-colonial 'occult' economies
12 items
Modern-day economic forms break from any stark formal / substantivist distinction and can be seen as an outcome of the rapidly-changing political contexts in which they emerge. Recent works, particularly from Southern African, highlight the emergence of different kinds of 'ritual' or 'occult' economies that foreground tensions arising in post-colonial contexts to do with 'modernity'.

Questions

What do we learn from viewing forms of exchange through the lens of 'occult' economies? Can this be seen as a kind of neo-substantivist take on local economic variations? Can we explain these forms as an outcome of a colonial past, or do they extend to pre-modern forms? What role does modernity and globalisation play in these kinds of explanations? How might this serve as a kind of meta-narrative that is used to rationalise different forms of exchange concerned with religious phenomena?

Required Readings:

3 items
Further Readings:
8 items
Week 4: Property, ownership & post-socialist subjectivities
17 items
With the collapse of the command-led economy of the Soviet Union and the introduction of the open market, new forms of ownership have emerged across the post-socialist world. State-owned industries have been privatised along with housing and commonly-held land. As people question ideas about entitlement, value and access to forms of property and resources, new forms of wealth and exchange have emerged leading to very different kinds of subjects.

Questions

What forms of ownership have emerged as a result of rapid privatization in post-socialist countries? Who is entitled to resources and land? How was state-owned housing distributed to individuals? The study of post-socialist economic transformations has shed light on innovative economic forms and transactions that question ideas about property, ownership and forms of subjectivity.

Required Readings:

3 items
Further Readings:
13 items
Week 5: Memory, Ancestors & Wealth:
15 items
This seminar explores the role of ancestors and the influence of history on people's fortunes in the present. What role does time, inheritance and debt play in the accumulation of wealth? Why has there been a rise in everyday rituals and religious life alongside emerging economic activity in certain places in the world? What can this tell us about new forms of economic engagement and ideas about exchange? How might the accumulation of wealth be perceived differently? What might we learn about capitalism from looking at rapid economic transformations in East Asia? This week we will explore the role of money in rituals involving ancestors and the memory of traumatic events in recent history. It will illuminate the way in which rapidly-changing economic environments alter the way in which people view ideas about the accumulation of wealth.

Questions

How do the deceased continue to influence the life of the living? What happens to the dead during natural disasters, wars, or rapid economic transformations? Are the dead really dead, or actually un-dead? What role does memory play in people's lives and fortunes, and how might ethnography challenge widely held assumptions about capitalism, highlighting alternative economic forms? What counts as wealth in a rapidly-changing economic market? What kind of things is money used to purchase /appease? How is money thought of differently in different contexts? What does the role or recent traumatic events play in current economic forms?

Required Readings:

3 items
Further Readings:
11 items
Week 6: Alternative Economies I: The Circulation of Fortune & Vitality
8 items
While people are concerned with accumulating material forms of wealth, in certain parts of the world this is dependent on the management of immaterial forms, such as luck, fortune, might and vitality. Much time is spent managing the flows of fortune to determine wealth and well-being. This week we will explore how this parallel economy works alongside of or separate from other forms of wealth accumulation.

Questions

Can one conceive of the accumulation and dispersal of vital forms such as fortune in economic terms? Can we talk of transacting and exchanging immaterial forms of power? Do people tend to vitality through forms of exchange? What kinds of subjects and social relations are produced out of these exchanges?

Required Readings:

4 items

Any two articles from the following volumes, both available on-line:

Social Analysis 2012 Cosmologies of Fortune: Luck, Vitality and the contingency of Daily Life Guest editors Giovanni da Col and Caroline Humphrey, Volume 56, Issue 1.

Social Analysis 2012 Times of Fortune: Contingency, Moral Agency and the Anticipation of the Future, Guest editors Giovanni da Col and Caroline Humphrey, Volume 56, Issue 2.
Further Readings:
3 items
Week 7: Alternative Economies II: Intellectual & Cultural Property
17 items
Stimulated by concepts of ownership, creativity and generation in Melanesia, anthropologists have turned to examine new forms of exchange and ownership elsewhere. These studies focus on diverse forms, such as bioprospecting from indigenous plants, developing patents, or trademarks, and establishing rights to resources in particular places. What kind of alternative markets and transactions are involved in these examples, and how might they challenge principles of other forms of exchange?

Questions:

What issues of ownership arise when attempts are made to register cultural forms such as songs, instruments and music to particular people? How do practices of bio-prospecting shed light in the way in which people are included or excluded from the market? What counts as creativity in making claims for patents? How does immovable property like land count as wealth?

Required Readings:

2 items
Further Readings:
14 items
Week 8: The Market & Finance
14 items
How are economic forms of rationality produced and in what ways are their enactments seen to create the markets that they describe? This week we will look at recent work that questions the way in which economic forms are reproduced and sustained. Social theorists have suggested that certain terms, actions and practices, actually shape the economic realities that they describe. While others have stressed the role of people and their relationships with others to shape the economy through the social life of the market.

Questions

How do certain terms and phrases come to shape economic realities? What is the role of hope in financing? How might the production of economic reality be produced through certain kinds of prediction and interpretation? What is the difference between 'virtualism' and the 'performativity' of the market?

Required Readings:

3 items
Further Readings:
10 items
Failure as an Endpoint - Hirokazu Miyazaki, Annelise Riles0631231757,1405123583,9780631231752,9781405123587

Chapter
Week 9: Economies of intimacy
18 items
What happens when money enters forms of social life that we think should be distinct from such quantification? Morally, what are the consequences of commodifying our intimate relations? This week we explore the way in which much of intimate social life is already determined by forms of economic life that we think of as outside of these relations. Changing practices of divorce, childcare and care for the elderly, all point to areas where money enters into intimate social life.

Questions

How might economic activity create and negotiate important intimate social relations? What kind of 'global care-chains' exit in the form of caring for the elderly? How does childcare negotiate roles of mothering for the mother and child? What notions of love and romance are at play in transnational marriage migration?

Required Readings:

3 items

Caring relations - Viviana A. Zelizer 2005

Chapter Essential Ebook available: weblink is to whole book, navigate from contents page to chapter
Further Readings:
14 items
All rights reserved ©
My notes
You must be signed in to add a note
What are item notes?
You can use item notes to make personal notes on any of your reading items. Notes are private to you and will not be shown to other users.
You can review your item notes from the list, the item page or from your profile page.
---
How do I create an item note?
To make notes, first you must be signed in. Once signed in, simply click Add note? next to the list item you wish to make notes on. You can also make notes at the bottom of every item's detail page.
Your note will be saved automatically as you type.
Have you read this?
You must be signed in to set a reading intention
What are reading intentions?
Setting up reading intentions help you organise your course reading. It makes it easy to scan through your lists and keep track of progress. Here's an example of what they look like: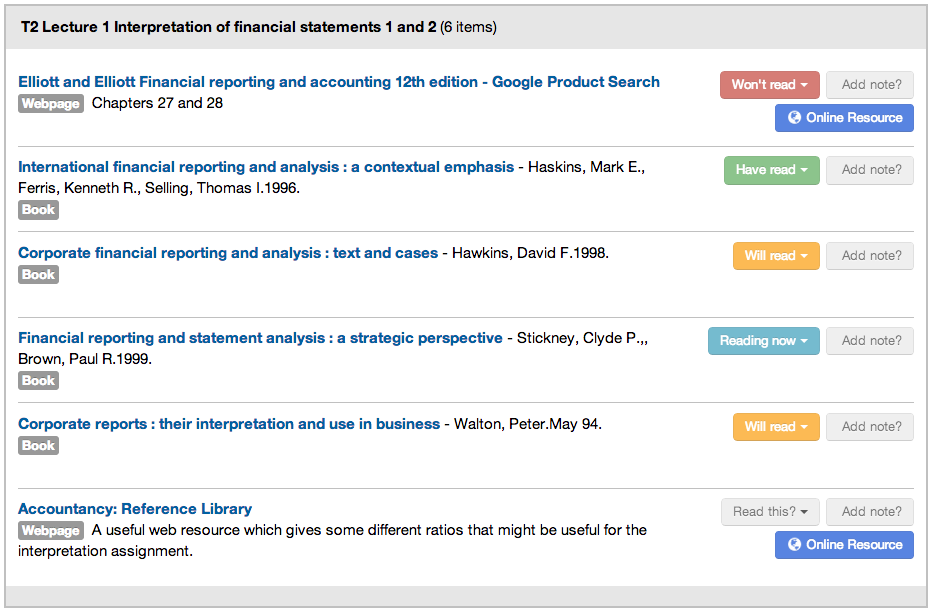 Your reading intentions are also stored in your profile for future reference.
---
How do I set a reading intention
To set a reading intention, first you must be signed in. Once signed in, click Read this? next to the list item you wish to set a reading intention for.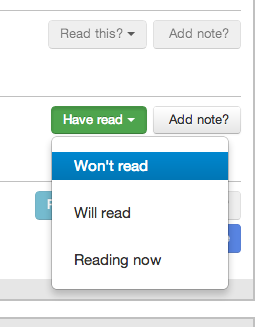 You can also set the reading intention from every item's detail page.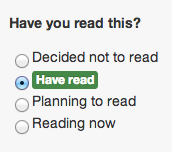 Profile Required
Reading intentions and notes are stored against your user profile. Please create a profile to use this feature.