ARCLG065: Managing Museums: Richard Timothy Schadla-Hall
Academic Year 2013/14
Archived
This list relates to the academic year Academic Year 2013/14 which ended on 01/07/2014
This list has been archived
Lecture 1: Introduction to Management Principles - issues associated with museum management.

8 items
2. Museums Governance
7 items
3. Managing and planning in the contemporary climate: budgets, performance and measurement.
10 items
4. The role and importance of ICT- media communication and information
15 items
Please also see the websites for the following museums:

The Smithsonian
British Museum
V&A
The Met, NYC
Powerhouse Museum
Science Museum
Geffrye Museum

Check these out and discover things that you liked and what the general user might get from them for:A) their own private research if they are an academic or just interestedB) whether they can find things easilyC) Would they be interested in visiting post website visit.
5. Government Policy and what ACE will do….
11 items
READING WEEK. Not a holiday, but a chance for you to catch up and do the reading that should be done for all your work, and to complete your first piece of written work. WHICH WILL BE DUE not long afterwards!!
6. Museums & Economics
13 items
Adrian Babbidge
7. Marketing and museums
3 items
TSH
8. Project management in the real world – problems and pitfalls
5 items
General literature on project management can be found in the Science Library, shelfmark Science MANAGEMENT HD 69.P75
9. Fundraising, Commercial Activities and surviving in an uncertain world. Mark Pemberton and Dr Robert H Bewley.
1 item
10. Panel on management - discussion and all the questions answered…
1 item
All rights reserved ©
My notes
You must be signed in to add a note
What are item notes?
You can use item notes to make personal notes on any of your reading items. Notes are private to you and will not be shown to other users.
You can review your item notes from the list, the item page or from your profile page.
---
How do I create an item note?
To make notes, first you must be signed in. Once signed in, simply click Add note? next to the list item you wish to make notes on. You can also make notes at the bottom of every item's detail page.
Your note will be saved automatically as you type.
Have you read this?
You must be signed in to set a reading intention
What are reading intentions?
Setting up reading intentions help you organise your course reading. It makes it easy to scan through your lists and keep track of progress. Here's an example of what they look like: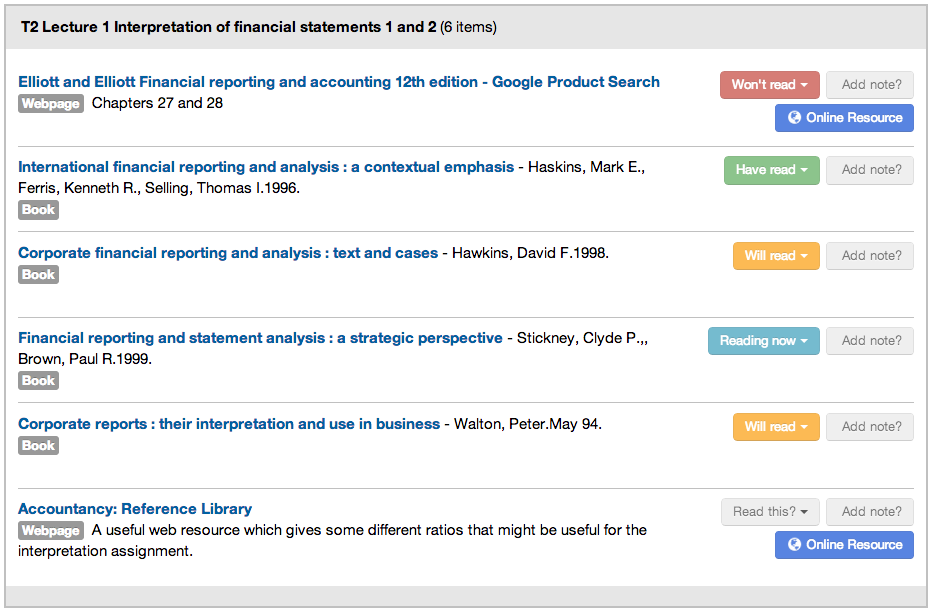 Your reading intentions are also stored in your profile for future reference.
---
How do I set a reading intention
To set a reading intention, first you must be signed in. Once signed in, click Read this? next to the list item you wish to set a reading intention for.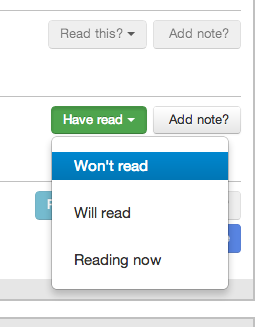 You can also set the reading intention from every item's detail page.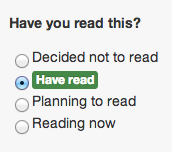 Profile Required
Reading intentions and notes are stored against your user profile. Please create a profile to use this feature.