ARCLG065: Managing Museums: Richard Timothy Schadla-Hall
Academic Year 2013/14
1. 3rd October - Introduction to Management Principles - issues associated with museum management.

9 items

TSH

This session will look at the overall approaches to management in museums and the issues of management in a wider context. A brief discussion on the definitions and purpose of museums will be offered. The session will pose a number of questions, including 'are museums any different from any other organisations that require management?' Particular emphasis will be placed on the need to clarify vision, mission, and values of an organisation and the significance of business/operating models. The need to understand the wider 'political' and social context in which museums exist will be stressed.

2. 10th October – Museums Governance

8 items

Adrian Babbidge

Museums today operate under a wide range of governance models, whether as autonomous organisations or as part of larger conglomerates. The session will look at the principles of good governance, how they are common to both public and private sector, and discuss their connections with museum ethics. The current impact of both declines in funding and also increasing changes to and pressures upon museums governance are considered in this session.

3. 17th October - Managing and planning in the contemporary climate: budgets, performance and measurement.

11 items

TSH

This session will aim to explain the purpose and forms of Strategic and Forward planning and attempt to differentiate between annual and strategic planning. It will then examine financial management in terms of project planning and capital expenditure as well as annual and forward planning in relation to revenue expenditure. The importance of measurement of outputs and the relationship between mission and performance measurement will also be examined, particularly in the light of existing trends in management in the UK. The importance of government policy will also be discussed. There will be a brief discussion of the international importance of museums.

4. 24th October- - The role and importance of ICT- media communication and information

16 items

Dominic Tweddle, Director General , the National Museum of the Royal Navy and Daniel Pett, British Museum.

Dominic Tweddle was chief executive of Continuum until recently when he was appointed as DG for the NRNM, and during that period he was involved aspects of developing IT to develop the use of Museums and provide information to encourage a wider public.Daniel Pett is responsible for the Portable Antiquities Scheme website which is run from the British Museum. He can also demonstrate the power of information gleaned from web hits, and the problems and pitfalls, and costs of developing systems.The aim of this session is to familiarise you with the wider aspects of ICT in a competitive world in which the long term survival of museums may depend on developments in this field for a whole series of applications.

A separate handout will be supplied, and both presentations will be on the web.

Please also see the websites for the following museums:

The Smithsonian
British Museum
V&A
The Met, NYC
Powerhouse Museum
Science Museum
Geffrye Museum

Check these out and discover things that you liked and what the general user might get from them for:A) their own private research if they are an academic or just interestedB) whether they can find things easilyC) Would they be interested in visiting post website visit.

5. 31st October – Government Policy and what ACE will do….

12 items

Hedley Swain, Director of Museums and Renaissance at The Arts Council

Hedley has been a working archaeologist, and Chair of the Society of Museum Archaeologists, and has published widely on matters of museum planning and management, as well as human remains. His recent work has been to examine and review all aspects of museum management and activity in the UK, and particularly England, as well as elsewhere in the world. Until four years ago he was Head of Early History, Museum of London.This session will look at the issues that will affect museum management in the near future from national policy through to the survival and growth (!) of the sector, as well as considering past failures! Hedley had huge responsibilities relating to the future of MLA and also the direction of Renaissance. He is now in a new post doing similar things with less money!The presentation will be made available on line later so that it is up to date! It is likely that the new policies now being worked on will change the situation out of all recognition

Valuing museums: impact and innovation among national museums - T. Travers, S. Glaister 2004

Document Recommended Also see the full list of publications on this website: http://www.nationalmuseums.org.uk/resources/ As well as the website: http://www.mla.gov.uk/ which contains all the recent work on the MLA and Renaissance

3rd-8th November- READING WEEK.Not a holiday, but a chance for you to catch up and do the reading that should be done for all your work, and to complete your first piece of written work. WHICH WILL BE DUE not long afterwards!!

6. 14th November - Museums & Economics

14 items

Adrian Babbidge

Economic impact seems to play as important a role as cultural values in formulating policy for the museum and heritage sector. Yet much of the research commissioned, its economic context and limitations is often not fully understood by the people who use it. The purpose of this session is to provide an overview of some of the key economic issues, their strengths and limitations.As well as having been a museum director and an Area Museums Service Director, he is one of the most widely respected consultants in the field of museums and related activities. In addition he is an expert on legal issues in Museums and was co-ordinator of this course five years ago!

7. 21st November Marketing and museums

4 items

TSH

This session will aim to explain the basic principles of marketing and their application to museums. It will examine the wider context and history of the development of marketing, as well as the need to consider marketing in the widest possible sense if museums are to survive in the UK because of the growth in the leisure sector of alternative options for using leisure time. It will then consider the ways in which customers are profiled through surveys and the uses of surveys to improve and inform the processes of marketing.

8. 28th November – Project management in the real world – problems and pitfalls

6 items

Alisdair Hinshelwood, Haley Sharpe Design. Alisdair has an international reputation in the museum design field.

This session will be devoted to the consideration of the development of major projects in museums, the complex problems of developing new galleries, the problems of project planning and the intricacies of bringing together design construction staff to produce a new product. The complexity and nature of project management in the museum world be explained and documented and Alisdair will also show the importance of funding and programming. This is a practical example of management and should provide real insights into major project development, especially from the outside contractor point of view .All too often individuals are allowed one major chance to work with designers and are ill prepared for the pressure of the commercial world! The whole of the powerpoint presentation will be available on line at the lecture or shortly afterwards. There is no one literature source that covers the real nature of project management- but…

General literature on project management can be found in the Science Library, shelfmark Science MANAGEMENT HD 69.P75

9. 5th December- Fundraising, Commercial Activities and surviving in an uncertain world. Mark Pemberton and Dr Robert H Bewley.

1 item

Mark was formerly Asst. Director for the NMSI, and now Director of National Collections at English Heritage. Bob Bewley is Director of Operations for the HLF, having previously worked for RCHM(E) and English Heritage. Museums are unable to survive without sponsorship for many of their activities. Although there are many ways in which museums can raise money through trading activities – these are fraught with difficulties and do not normally produce the income that many expect them to. In many if not most cases entry charging is now simply unacceptable. However new income streams are always possible- for example through shops and restaurants – often under franchises. Since the 1980s the encouragement of business sponsorship has become an increasing source of funding for both temporary exhibitions and capital development. However this path can result in ethical problems and the field is becoming ever more crowded.

Mark was previously at Ironbridge Museum, before going to NMSI and has successful track record and long experience, particularly during his period at the NMSI, of attempting to increase funding and develop further acceptable sources of support for the museum. His current job means that he is responsible for a wide range of commercial activities, as well as responsible for maintaining a national coverage of museums and heritage sites, which covers a wide range of sizes. Bewley is responsible for HLF activities which make it the biggest funder of Museums and related activities in the UK.separate handouts will be supplied.See http://www.ucl.ac.uk/museumstudies/manage/

10. 12th December – Panel on management - discussion and all the questions answered…

1 item

Rather than the conventional overview of Museums management this session will take the form of a panel of people concerned with elements of museum management – who will be there to answer your questions about museums and the ways in which they are run, their future etc!.The panel will consist hopefully of many of the earlier speakers: a final announcement will be made later in the term.

Amongst the possibles are:

Andrew Burnett-, Deputy Director, British Museum
Dominic Tweddle- Director General National Museum of the Royal Navy
David Clarke – Keeper of Archaeology The National Museum of Scotland
Adrian Babbidge- Egeria Consultancy
David Prince CEO PRCLtd
Caroline McDonald Keeper of Archaeology Museum of London
Lesley Webster, former keeper of Europe and Prehistory, British Museum.
All rights reserved ©
My notes
You must be signed in to add a note
What are item notes?
You can use item notes to make personal notes on any of your reading items. Notes are private to you and will not be shown to other users.
You can review your item notes from the list, the item page or from your profile page.
---
How do I create an item note?
To make notes, first you must be signed in. Once signed in, simply click Add note? next to the list item you wish to make notes on. You can also make notes at the bottom of every item's detail page.
Your note will be saved automatically as you type.
Have you read this?
You must be signed in to set a reading intention
What are reading intentions?
Setting up reading intentions help you organise your course reading. It makes it easy to scan through your lists and keep track of progress. Here's an example of what they look like: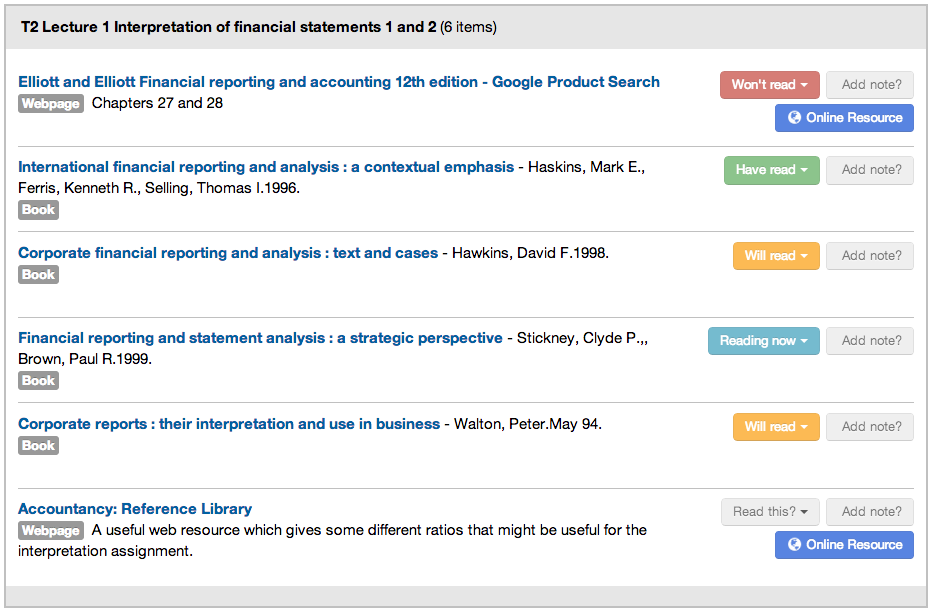 Your reading intentions are also stored in your profile for future reference.
---
How do I set a reading intention
To set a reading intention, first you must be signed in. Once signed in, click Read this? next to the list item you wish to set a reading intention for.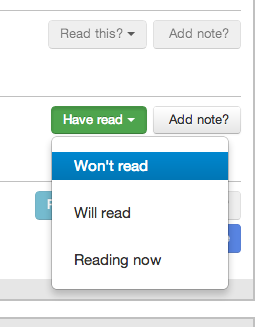 You can also set the reading intention from every item's detail page.