ANTH0029: The Anthropology of Nationalism, Ethnicity and Race
Academic Year 2018/19
Copy of ANTH3030
ANTH0029: The Anthropology of Nationalism, Ethnicity and Race

4 items

2018-2019 Term 2

Lecturer: Dr Rebekah Plueckhahn

Office:

Email: r.plueckhahn@ucl.ac.uk

Student feedback and consultation hours: TBC once my timetable is finalised and by appointment.

Undergraduate Lecture: Fridays 9-11am, Taviton 16, Room 431


Postgraduate Seminar: Fridays 2-4pm, Birkbeck Gordon Sq (43) 104.

Undergraduate tutorials are held on Fridays:

Tutorial One: Gordon Square (22) B15, Friday 12-1pm

Tutorial Two: Gordon Square (22) B15, Friday 1-2pm

This course examines the concepts and practices of 'ethnicity,' 'race' and 'nation,' as bases of social and political belonging and differentiation and as sources of both comfort and conflict. The focus will be on the creation and reworking of categories and forms of identification in different places, where we will examine aspects of the lived experience of 'ethnic' and 'national' attachments and their changing forms. We start with the premise that nationalism, race and ethnicity are socially constructed and emergent forms of affiliation rather than substantial entities. Nationalism, race and ethnicity will be studied, seeking to understand them as relational processes unfolding in the historical contexts in which they have developed. As such, the course is not limited to the specialized fields of nationalism, race and ethnicity but has a broader relevance to anthropology and social and political sciences.

The format of the course relies on both lectures with some student participation and discussion during the tutorials. All students are required to engage in critical analysis of the required readings.

Readings consist of a variety of articles and book selections. The readings are primarily anthropological but we will peruse a few classics from political theory, feminist writings, culture studies and history. For each week there are THREE REQUIRED readings, some more conceptual but at least one of them will present an ethnographic case that has been selected to exemplify theory. Additional recommended readings will appear on your library reading list, however, not all additional readings will be digitised.

Please note that I will be adding further readings throughout Term 2, so the library list will be live and continuously updated. You might find the 'suggested readings' useful when it comes to writing your essays.

The readings can be found in:

1) online

2) main collection in UCL libraries

3) Other London libraries, especially the British Library (you need to register).

ASSESSMENT AND REQUIREMENTS

1. You are required to complete each week's readings prior to your tutorial. The key readings will be integrated in the lecture but we will discuss them critically during the tutorials.

2. There is no exam in this course.

For Undergraduates, the course will be assessed by two essays of 2000 words each. Each essay is worth 50% of the final grade.

For the Masters students, assessment will be one 3000 word essay.

1. WEEK ONE (Jan 11): Introduction

15 items

Introduction to the requirements and themes of the course, followed by a brief historical overview of the genealogy of nationalism. This week introduces students to a number of important theoretical issues. We will do this through exploring how the terms nationalism, ethnicity and race have been used in anthropology and related fields. Questions: Why should we study race, ethnicity and nationalism together? What is the affinity between them? What is the scholarly benefit of the shift between asking what an ethnic group or nation is, to attempts to specify how ethnicity, race and nation work?

What is a nation? - Ernest Renan 1990

Chapter 1990 edition - further copies in the library

Waiting - Ruth Visser

Chapter Digitised reading

2. WEEK TWO (Jan 18): Nations and Nationalism

15 items

We will discuss the origins of nation states and explore how nations become felt, experiential worlds charged with political and ethical dilemmas. We will also ask the ways that the conceptualization of nation-states is changing. Questions: What are the origins of nation-states? Are there ancient and new nations? How do people come to think of themselves as part of a nation? Are they a necessary ideal for the group and what constitutes a group in the first place? How do nations become plausible and persuasive?

3. WEEK THREE (Jan 25): Ethnicity.

21 items

This lecture adopts a constructivist approach to ethnicity as an agentive historical process of categorizing people. We will look at these complex issues through multiple ethnographic examples and explore the implications of coupling culture and ethnicity for our understanding of diversity. Questions: How do ethnic categories come into being? What is erased in the process? What does it mean to be of a particular descent?

4. WEEK FOUR (Feb 1): "Race" and the process of racialisation.

27 items

This week our focus is on race. Is race rooted in human biology or culture? How is race constructed in relation to the colour of skin? If race is an obsolete category of anthropological analysis (as some have argued), how can we account for enduring, sometimes unwitting forms of racism? We will explore ethnographic particularities and historical change and continuity in attitudes towards "race" and racism.

5. WEEK FIVE (Feb 8): Performance, Art, Culture and Ethnicity

17 items

This lecture explores ethnicity through the lens of musical performance and visual art. We will look at the links between artistic practice, national, transnational and local conceptualisations of ethnic and cultural identity. For this week we will examine Mongolia in-depth as a case study, linking this also to other ethnographic examples. Questions: Is ethnicity a performance? How does performance constitute ethnicity? How do performed ethnicities or cultural identities become a commodity for sale? And how does this become implicated in circulations of prestige and value between people?

6.WEEK SIX : READING WEEK - Beginning February 11th

1 item

7. WEEK SEVEN (Feb 22): GUEST LECTURE - Whiteness

1 item

Following on from the topic of race, this lecture will discuss whiteness. Reading list TBC by guest lecturer.

8. WEEK EIGHT (March 1): Religious Nationalism

25 items

This lecture will examine and discuss religious nationalism. What happens to religion when it becomes a setting for political relations? Is it conceptually sound to separate religion and politics as overlapping fields of practice? Are they different orders of reality?

9. WEEK NINE (March 8): Connectivity and Nationhood

20 items

It is a popular argument that today's world is that of connectivity, including new media technologies, transnational trade networks, globalization, cosmopolitanism, and international institutions. This lecture will ask: What are the challenges that connectivity poses to the notion of a bounded, territorially marked nation-state?

10: WEEK TEN (March 15): Populist politics and new nationalisms

11 items

This week will examine the role of nationalism in populist political discourse and how nationalism in some areas is being re-framed. We will explore the different ways ethnicity is becoming implicated in these forms of nationalism arising out of populist politics.
All rights reserved ©
Profile Required
Reading intentions and notes are stored against your user profile. Please create a profile to use this feature.
My notes
You must be logged in to add a note
What are item notes?
You can use item notes to make personal notes on any of your reading items. Notes are private to you and will not be shown to other users.
You can review your item notes from the list, the item page or from your profile page.
---
How do I create an item note?
To make notes, first you must be logged in. Once logged in, simply click Add note? next to the list item you wish to make notes on. You can also make notes at the bottom of every item's detail page.
Your note will be saved automatically as you type.
Have you read this?
You must be logged in to set a reading intention
What are reading intentions?
Setting up reading intentions help you organise your course reading. It makes it easy to scan through your lists and keep track of progress. Here's an example of what they look like: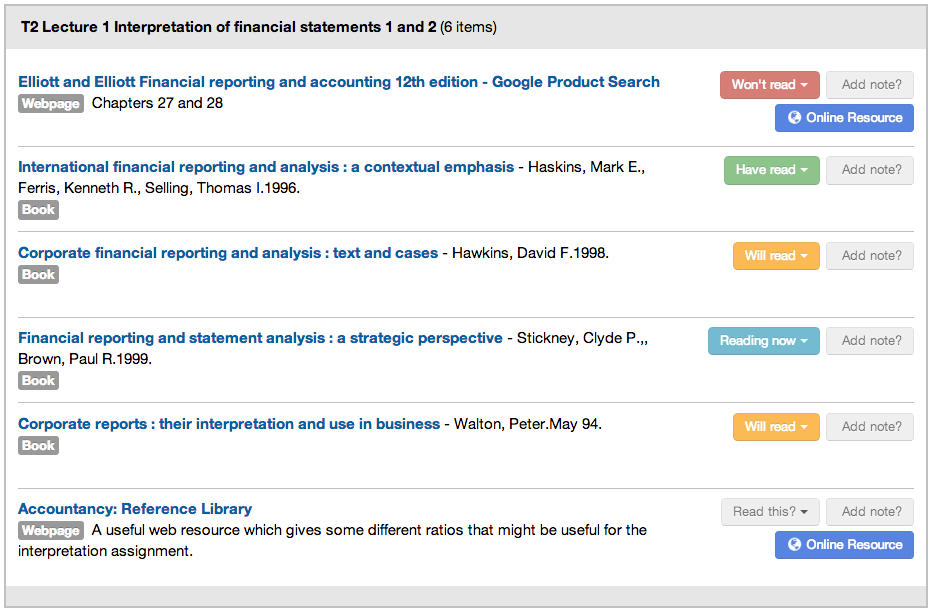 Your reading intentions are also stored in your profile for future reference.
---
How do I set a reading intention
To set a reading intention, first you must be logged in. Once logged in, click Read this? next to the list item you wish to set a reading intention for.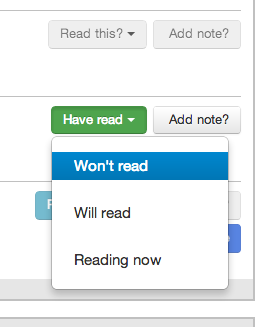 You can also set the reading intention from every item's detail page.