PSYCGN47: Clinical Skills 1: Bunsi Shah
Academic Year 2017/18
MSc Developmental Psychology & Clinical Practice - Year 2. All lectures take place on Fridays 13:30 – 16:30 in the AFNCCF Library, unless otherwise noted below. Aims: To enable students to understand and develop core clinical skills for working with children and families in a mental health setting. These include; how to work within an ethical and child centred framework, adapting your approach appropriately according to the developmental stage, presenting problem, personality and life history of the children and families and the ability to think reflexively. Description: Clinical Skills I consists of 10 sessions during the Autumn term of year two. Over the course of the term a range of clinical presentations and professional issues will be explored. Students will be required to engage in small and large group discussions, as well as role plays and experiential exercises, in order to develop their clinical and reflective skills. Assessment: Therapy snapshot assessment. In this assessment students will be required to explore a 5 minute therapy clip from a number of angles.
The reading list includes both essential and optional readings. Where it is indicated that a reading is essential, there will always be a link to the full text or, occasionally, a note explaining why such a link cannot be provided. Full text is not always provided for optional readings. Please be aware if a reading is essential or optional - and if you wish to find the full text of an optional reading not provided, please ask the AFC librarian for help.

Friday October 6th 2017: Session 1: Introduction to the module and reflective practice: Bunsi Shah

7 items

This session provides an introduction to the module and will help students to get an overall impression of both clinical skills I and clinical skills II. The students will be told about the CS I assessment process and what will be covered in the module. There will be an opportunity for students to discuss their own goals for the modules and what they hope to learn. Ground rules for the modules will be agreed and the safety of the learning environment will be stressed. Students will be encouraged to reflect on their learning experiences to date and how to use the module to build on these. The session will also be used to think about students' understanding of how to use the reflective log over the course of their clinical placements.

Friday 13th October 2017: Session 2: Ethical practice with children and young people: Bunsi Shah

7 items

Effective clinical practice needs to be underpinned by a strong ethical framework. This session will provide students with: a) Knowledge of confidentiality, consent and capacity guidance b) Skills in gaining informed consent to therapeutic work and information sharing c) Skills in communicating and implementing confidentiality policies

Friday 20th October 2017: Session 3: Risk assessment: Bunsi Shah

4 items

Risk assessment is an integral aspect of clinical practice with children and adolescents. This session will focus on the different types of risks posed to children (by others and by themselves) and will provide practical ideas for undertaking risk assessment and management, , in particular in relation to deliberate self-harm.

Recognising and treating self-harm - S. Walker

Chapter Essential Digitised reading. Book also available in the Anna Freud National Centre for Children and families library

Friday 27th October 2017: Session 4: Recognising and addressing childism: Bunsi Shah

6 items

Prejudice and discrimination is a common experience for children and can have significant implications for their emotional development and mental health.This session enables students to: a) Understand the nature of childism b) Appreciate the impact of childism on children's development. c) Develop skills to address childism in clinical practice

Friday 3rd November 2017: Session 5: Skills for working with parents: Bunsi Shah

3 items

Good child mental health exists within a context of positive relationships. The session will cover the contexts in which working with parents is indicated, for example when the parent's own relationship, mental health or parenting skills are impacting on the well-being of the child. The session will also discuss examples of practical parenting interventions based on social learning and attachment theory.

Friday 10th November 2017: Session 6: Anxiety in children with ASD: Ann Ozsivadjian

4 items

This session develops students' skills for helping children overcome high levels of anxiety. There is a focus on CBT skills, and adaptations for working with children with Autistic Spectrum Disorders.

Friday 17th November 2017: Session 7: Skills for working in Tier 4 CAMHS: Pippa Hembry

2 items

Children and young people face particular challenges when admitted to in-patient units. This session will explore some of the reasons that adolescents are treated on units and the different therapeutic approaches that are used in these settings. Some ethical and professional issues (such as risk assessment) are also considered.

Friday 24th November 2017: Session 8: Anger and aggression: Bunsi Shah

5 items

Regulating anger and aggression is an important life skill which children learn in a variety of ways. This session will focus on ways to help children (and their carers) understand the meaning of anger and aggression and facilitate ways of managing these experiences in creative, rather than destructive ways. The session will be used to think about clinical conditions with associated features of anger and aggression, such as conduct disorder and oppositional defiant disorder.

Friday 1st December 2017: Session 9: Working with primary school aged children: Bunsi Shah

4 items

Friday 8th December 2017: Session 10: Working with adolescents: Bunsi Shah

2 items

Adolescence will be considered as a time of transition, with associated opportunities and challenges. The session will address some of the practical issues of working with adolescents as well as ways to use skills from positive psychology in supporting them during this developmental stage.
All rights reserved ©
Profile Required
Reading intentions and notes are stored against your user profile. Please create a profile to use this feature.
My notes
You must be logged in to add a note
What are item notes?
You can use item notes to make personal notes on any of your reading items. Notes are private to you and will not be shown to other users.
You can review your item notes from the list, the item page or from your profile page.
---
How do I create an item note?
To make notes, first you must be logged in. Once logged in, simply click Add note? next to the list item you wish to make notes on. You can also make notes at the bottom of every item's detail page.
Your note will be saved automatically as you type.
Have you read this?
You must be logged in to set a reading intention
What are reading intentions?
Setting up reading intentions help you organise your course reading. It makes it easy to scan through your lists and keep track of progress. Here's an example of what they look like: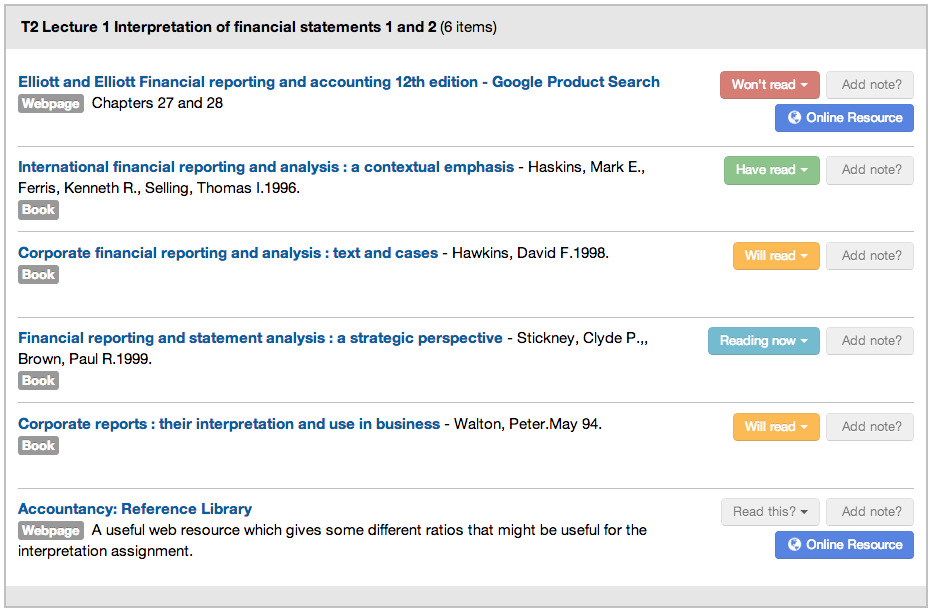 Your reading intentions are also stored in your profile for future reference.
---
How do I set a reading intention
To set a reading intention, first you must be logged in. Once logged in, click Read this? next to the list item you wish to set a reading intention for.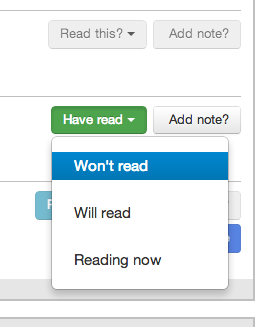 You can also set the reading intention from every item's detail page.