This list relates to the academic year Academic Year 2013/14 which ended on 01/07/2014
This list has been archived
Edited collections of pan-Mediterranean archaeological and related scope
7 items
Geography, environment and biogeography
5 items
Some overall prehistories of the Mediterranean
3 items
Leading later histories
7 items
Mohammed and Charlemagne - Pirenne, Henri, Pirenne, Henri, Pirenne, Jacques, Vercauteren, Fernand 1992088029857x,088029857X

Book Essential
Journal of Mediterranean Archaeology: since 1988 a major venue for ideas-driven research.
Mediterranean Historical Review: a wide range of historical and anthropological studies, often themed, with occasional specifically archaeological contributions.
Topic 1: Why, or why not, the Mediterranean?
28 items
Start with:

Preface0002115360,0002115409

Chapter Essential A massive book to return to throughout this course, but start now with the famous Preface to the first edition. PP 17-22, which is attached as a digital reading.
Then:
Recommended: Formative vision of the Mediterranean
3 items
The definitional and wider debate continues
8 items
The anthropologists' Mediterranean
5 items
Other cultural responses
5 items
Explore how the Mediterranean figures in the following global histories
2 items
Topic 2: Environments, resources and their consequences
39 items
Recommended: overviews and introductions
7 items
The physical geography of the Mediterranean - Woodward, Jamie C. 20090199268037,9780199268030

Book Recommended CHAPTERS BY MATHER, HARDING ET AL, TZEDAKIS, ALLEN, THORNES ET AL, OPPENHEIMER AND PYLE, DEL CARMEN LLASAT AND THORNES
Recommended: environmental history
9 items
The nature of Mediterranean Europe - Grove, A. T., Rackham, Oliver 2003 (an ecological history)0300100558,9780300100556

Book Recommended BROWSE THROUGH CHAPTERS 1-6, 9-11
Climate and climate change
7 items
Risk, survival and surplus (further to Horden and Purcell 2000)
5 items
Mountains and their uses
4 items
Topic 3: Sea, coast and islands
60 items
The corrupting sea: a study of Mediterranean history - Horden, Peregrine, Purcell, Nicholas c20000631136665,0631218904,9780631218906

Book Essential PAGES 123-143 (CONNECTIONS AND ROUTES), PAGES 186-197 (WETLANDS AND FISH), PAGES 224-230 (ISLANDS) AND PAGES 438-445 (MARITIME CULTS).
Recommended: overviews and themes
3 items
Early harbours and their roles
5 items
Seafaring, shipping and navigation
11 items
The Odyssey - Homer, Rieu, E. V., Rieu, D. C. H. 20030140449116,9780140449112

Book Recommended E-BOOK - VERSION BY SAMUEL BUTLER ATTACHED.
Topic 4: Investigative strategies
45 items
Landscape archaeology and survey
14 items
Maritime and harbour archaeology
8 items
Archaeological science applications (one example among many dispersed ones)
1 item
A few samples of textually integrated or image-focused approaches
9 items
Topic 5: Scales of analysis and their integration
32 items
World-systems, big histories and their challenges
6 items
Good examples of micro-scale work
5 items
Time and timescales
6 items
There is a vast specialist literature on chronology in most parts of the Mediterranean
Edges and their crossing (further to earlier reading on edge definition)
7 items
Topic 6: Interaction, networks, mobility, demography and identity
51 items
The corrupting sea: a study of Mediterranean history - Horden, Peregrine, Purcell, Nicholas c20000631136665,0631218904,9780631218906

Book Essential PART TWO, V, PAGES 123-172, PART THREE, IX, PAGES 342-400

On hard scientific approaches to human movement, try one of the following:

If time, for an example of working through network modelling in practice:
Mobility and its consequences
9 items
On 'colonisation' (see also identity and ethnicity)
8 items
Identity and ethnicity (see also 'colonisation')
16 items
Topic 7: Trade, transmission, commodities and consumption
57 items
If time, and to complete (with future seminars) your reading of this work:
Some of the classic anthropological literature on 'trade'
9 items
Some key goods and commodities
28 items
Some examples of approaches to Mediterranean trade, from a vast literature
5 items
Topic 8: Mediterranean polities and urbanism
35 items
The western and Punic Mediterranean
3 items
Topic 9: Sacred seas, holy lands?
31 items
Religion, space, power and identity
12 items
Maritime and mobile religion
7 items
Death rituals, citizens and polities
2 items
Topic 10: The Mediterranean's past today and tomorrow
39 items
Beirut's memorycide - A. Naccache0415164702,0415196558

Chapter Essential AVAILABLE AS AN E-BOOK THROUGH ACADEMIA.EDU

If you have time and are interested:
The politics of the past and the practice of archaeology today
14 items
Looting, collecting and the antiquities trade
8 items
Conservation, heritage and tourism
8 items
All rights reserved ©
My notes
You must be signed in to add a note
What are item notes?
You can use item notes to make personal notes on any of your reading items. Notes are private to you and will not be shown to other users.
You can review your item notes from the list, the item page or from your profile page.
---
How do I create an item note?
To make notes, first you must be signed in. Once signed in, simply click Add note? next to the list item you wish to make notes on. You can also make notes at the bottom of every item's detail page.
Your note will be saved automatically as you type.
Have you read this?
You must be signed in to set a reading intention
What are reading intentions?
Setting up reading intentions help you organise your course reading. It makes it easy to scan through your lists and keep track of progress. Here's an example of what they look like: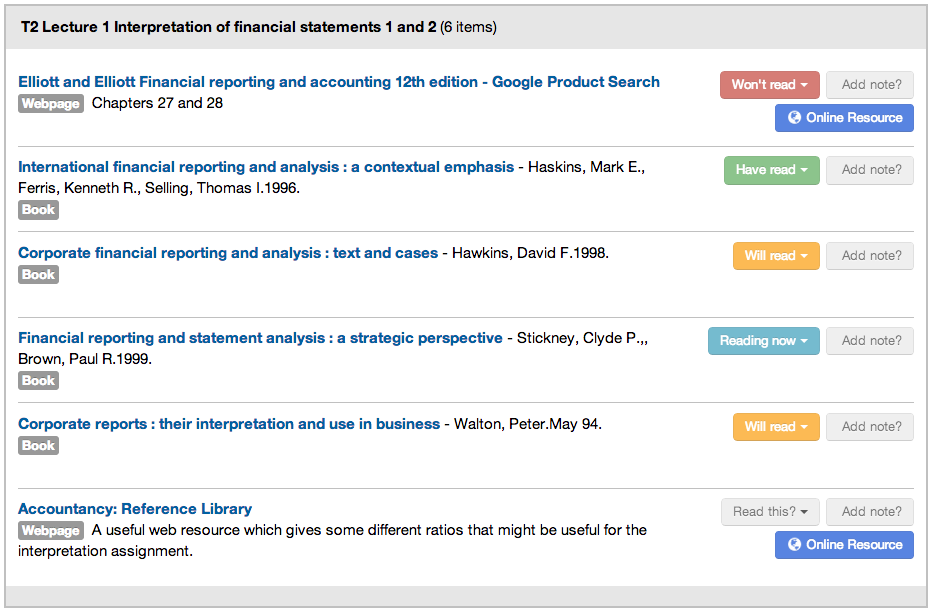 Your reading intentions are also stored in your profile for future reference.
---
How do I set a reading intention
To set a reading intention, first you must be signed in. Once signed in, click Read this? next to the list item you wish to set a reading intention for.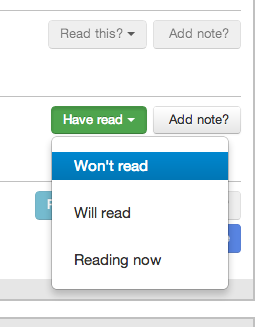 You can also set the reading intention from every item's detail page.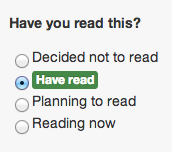 Profile Required
Reading intentions and notes are stored against your user profile. Please create a profile to use this feature.