ARCL1003: World Archaeology: the deep history of human societies
Academic Year 2014/15
Archived
This list relates to the academic year Academic Year 2014/15 which ended on 01/07/2015
This list has been archived
Introductory reading

3 items

Ancient civilizations - Scarre, Christopher, Fagan, Brian M. c20030130484849

Book For Term 2 a good introduction to many of the complex societies examined is:

Lecture 1: Introduction to the course (Kevin MacDonald)

1 item

The first session will consist of an introduction to the course, its structure and aims, and an explanation of what is involved with seminars and assessment.

Reading: The only essential reading is this handbook!

Lecture 2: A deep (pre) History for Humanity (Kevin MacDonald)

8 items

Archaeology, it can be argued, addresses the lion's share of global long-term history, and therefore most of the fundamental reasons why human and other contemporary life on the planet has developed as it has, and looks as it does today. This lecture argues for archaeology's unrivalled scope in this respect, and considers how archaeologists view change and causality in 'deep time'.

Lecture 3: Before us: evolutionary perspectives ( Matt Pope)

5 items

What are the origins of our biological genus, Homo and what are the processes which have shaped our bodies, minds and culture? Taking a long view, this lecture examines the evolution of the gunus Homo, set within the framework of long-term cycles of global climate change and environmental pressures and opportunities. The conditions in which features such a bipedalism, tool use, changes in diet and increasing brain size are explored, with reference to fossil, lithic and environmental data.

Lecture 4: Case studies (i) Olduvali (Tomos Proffitt) (ii) Jersey (Matt Pope)

6 items

These case studies offer two very different windows into human evolution, both in terms of timing and location. Olduvai Gorge remains to this day one of the key African sites for the Early Stone Age, providing critical evidence of the environmental context and behavioural proclivities of early hominins. Regarding the second case study, Boxgrove, a site dating to half a million years ago from southern Britain, provides an exceptional window into the lifeways of the human species Homo Heidelbergensis. The archaeological record of this site exceptionally preserved in fine silty sediments, has captured moments in the stone tool production, hunting and butchery behaviour. This case study explores how we, as archaeologists can attempt to reconstruct the behaviour and society fo early human species and bring into focus aspects of the life which helps to define the differences and similarities of this type of human species in comparison to ourselves.

Lecture 5: The Begining fo Us: Early Modern Humans and Neanderthals (Matt Pope)

10 items

In this lecture we examine the emergence of our own species, Homo Sapiens, in terms of their physical and behavioural evolution and explore how we came to apparently replace other species on the planet, including Homo Neanderthalensis (The Neanderthals). In what ways is our species unique? and to what degree did cognitive abilities vs new behaviours drive our emergence as the only species on the planet. The role of culture, biology and nices creation are explored.

Lecture 6: Case studies (i) La Cotte de St.Brelade (Matt Pope) (ii) Azraq (Andrew Garrard)

14 items

La Cotte de St Brelade offers a later perspective from the edge of the human world over a period of 250,000 years. It is a site which give detailed evidence for Neanderthal behaviour on an evolutionary time-scale. Aspects fo the archaeology of the site are examined looking at Neanderthal hunting techniques, use of fire and technological innovation. The site is presented as an example of novel niche creation and the nature of Neanderthal life, compared to contemporary human species is explored. The second case study, a prelude to our next lecture, focuses on Azraq in eastern Jordan, looks at the changing environment of this marginal region, the reconstruction of lifeways among gazelle hunters, and the factors that may have led subsequently to the adoption of agriculture.

La Cotte de St. Brelade

8 items

Lecture 7: Early Holocene Climate Change & Subsistence (Kevin MacDonald)

10 items

A few millennia after the Last Glacial Maximum, Earth's climate began to warm again, leading, after dramatic accelerations and reversals, to te beginning of the present interglacial, known as the Holocene, around 9500 BC. Warming transformed the planet's environments and seas, and offered enormous new opportunities for fully modern humans - indeed the extraordinary acceleration of subsequent human history is entirely compressed within this precarious blip of environmental time. This lecture outlines the climatic transformation and highlights several of the richly divergent human responses and initiatives with foci on Natufian semi-sedentary wild cultivators in the Levant, hunter-gatherer-fishers in regions, as well as the first expansion of people into the Americas and the greening of the Sahara. A significant development during this period in Western Asia, Japan and Africa was the development and proliferation of pottery with important consequences for subsistence and mobility. Finally, there are the remarkable and unexpected per-Agricultural monuments of Gobekli Tepi from Turkey........

Lecture 8: First Farmers in Western Eurasia (Kevin Macdonald)

15 items

Farming, the outcome of this process, laid the foundations for a transformation of the Earth that we still live with today. this lecture takes a comparative look at key ideas and trajectories in early farming concentrating on the largest, oldest agricultural nuclear zones: the Fertile Crescent, which arcs from the Levant through southern Anatolia ( modern Turkey) to the eastern flanks of Mesopotamia (modern Iraq and parts of Iran). It explores patterns of change in this region, both i plant and animal management, and in the burgeoning village-level societies and new ritual activities that accompanied this, among which number remarkable 'megasite' communities with several thousand inhabitants - as far as we know the first such communities in the world.

Lecture 9: Case studies (i) Plant domestication in the Fertile Crescent (Leilani Lucas) (ii) Early rice cultivation in east Asia( Dorian Fuller)

15 items

Actually identifying how and where early domestication processes took place is much less straightforward than it might seem, and yet critical to the big picture of agricultural origins. These case studies offer two palaeobotanical examples of such research, from the opposite ends of Asia, and involving markedly differenct challenges and techniques. The first looks at plants in the Fertile Crescent, and how precisely we identify early domesticated crops. The second looks at east Asia, an area of long-suspected but only recently verified early domestication, and investigates the very different issues surrounding rice.

Plant domestication in the Fertile Crescent

5 items

Early rice cultivation in east Asia

5 items

A rather longer than normal list follows to infill on early east and south Asia

5 items

Lecture 10: Case studies (i) Catalhoyuk (Louise Martin) (ii) Expansion of Eurasian Pastoralism (Kat Manning)

11 items

The Neolithic, as will already be evident, was about much more than farming. It also constituted a major transformation in social relations and demography. Here, two case studies pitched at dramatically different scales offer contrastive if complementary perspectives on such processes. The first takes a contextual look the most intensively excavated of the early, populous megasites, that of Catlhoyuk in turkey, and specifically at how animals and people became entangled in new economic and ritual relationships. The second takes Europe as its canvas, and examines the broad sweep of farming expansion and later in situ developments, searching for regularities and significant differences.

Interpreting farming expansion across Europe

5 items

Lecture 11: Alternative Pathways to the Western Asiatic Farming Package (Kevin MacDonald)

13 items

At variance with the conventional models from western (and eastern) Asia, the early to mid Holocene witnessed entirely different trajectories elsewhere on the planet. Extensive areas remained hunter-gatherer zones, including the entire Australian continent, and elsewhere changes moved to different tempos and involoved quite different suites of practices, domesticates and relations to settled or mobile lifestyles - a reflection in large part of differenct opportunities and pre-existing conditions. This lecure explores developments first in Japan with the early ceramic Jomon complex, relatively sedentary long before it developed agriculture. we then move to Africa, where pastoralism seemingly preceded plant cultivation by several millennia, and did much to shape early societies in a greener Sahara and along the Nile. Finally it is onto the Americas, where a patchwork of diverse initiatives sprang up, based on radically different plants and animals, and including Neotropical and montane contexts quite different from Eurasia.

Lecture 12: Case studies (i) TheMiddle Niger (Kevin MacDonald) (ii) The Amazon (Manuel Arroyo-Kalin)

9 items

Thought-provoking new discoveries await those who explore areas of the world far from the best-known core zones of early agriculture, discoveries that serve to recalibrate our models and expectations. The first of our case studies looks at the unique symbiotic subsistence system of the Middle Niger which has at its origins decisions by the ancient peoples of arid West Africa to occupy specialised fishing, pastoral and grain-farming niches. The second focuses looks at the Amazon basin, a vast region long resistant to exploration of its prehistory, and at the heart of debates about the potential of tropical habitats.

Accomodation - R. J. McIntosh

Chapter Chapter 3 Digitised reading

Lecture 13:Metallurgy and its Social Implications (Kevin MacDonald)

9 items

For much of Asia and Europe between the spread of farming and emergence of early states lies the advent of metallurgy. This lecture examines the extent to which Copper and Bronze metallurgy triggered fundamental economic, social and cultural changes. Likewise, long-distance movements of materials and objects had been one of the hallmarks of modern human behaviour since the Upper Palaeolithic, and continued through the transition to farming despite increasing sedentism. With metals as a commodity evidence indicates that such movements invloved growing use for social prestige and profit-tinged trade. Such interactions by land and sea accompanied emergent social complexity in many parts of the world.

Lecture 14: Early Complex Societies and Urbanism (Kevin MacDonald)

11 items

The combined trajectories outlined over the previous lectures encouraged the formation of ever larger-scale and in many senses more 'complex' societies, focused on towns or cities at the centres of early states or, later, empires - first in Mesopotamia and Egypt but soon much more widely. The emergence, spread and differentiation of such entities is one of the key issues for later prehistory. This lecture provides an introduction to their definition and interpretation. Changing approaches are reviewed, and the nature of 'the state' and major theories as to its origins outlined. This lecture introduces several concepts and perspectives that will be drawn upon throughout the rest of the course.

Lecture 15: 'Civilization': Mestopotamia and Dynastic Egypt (David Wengrow)

8 items

What do we mean by the concept of 'civilisation''? And why are Egypt and Mesopotamia so often cited as the first examples? This lecture will provide a brief overview and comparison of these two regions - where the world's first cities, states, and systems of writing emerged - highlighting some key similarities and differences between them. It will also examine some possible reasons for their precocious development between the fifth and the third millennia BC, and their place within the wider world of Africa, Asia and the Eastern Mediterranean.

Try to read these chapters alongside Roaf's (1990) Cultural Atlas of Mesopotamia (reference below) and Baines & Malek (200) Cultural Atlas of Ancient Egypt, which provide distribution maps and illustrations of the main types of material culture.

Lecture 16: Case studies (i) Exploring the First Global Village: IOA Fieldwork in Iraqi Kurdistan ( David Wengrow) (ii) Local Worlds beyond the Pyramids (Richard Bussmann)

8 items

Iraqi Kurdistan The Institute of Archaeology is currently conducting excavations in the Shahrizor Plain of Iraqi Kurdistan. Our work there focuses on two adjacent prehistoric sites, spanning the period in which the world's first cities emerged against a long backdrop of Neolithic village life int he Middle East. this Case Study will briefly introduce the project, its aims, and a few of the results so far. It will also consider some the practical challenges of establishing a fieldwork in project in the contemporary Middle East, and the variety fo methods used in the field to retrieve archaeological data'

Egyptian pyramids and temples reflect the emergence of high culture typical of early civilizations. The focus of Pharaonic monuments is on kingship and shapes our perception of ancient Egypt. This session explores life in ancient Egypt beyond pyramids. It will examine what social complexity meant for local communities and how the Pharaonic state was embedded in the territory it claimed to adminster.

Webpage Project website of the German Archaeological Institute in English, English excavation reports of the last 8 years at the bottom.

http://dx.doi.org/10.5334/ai1708

Lecture 17: Bronze Age Mediterrranean (Todd Whitelaw)

14 items

The Near East, Egypt and eastern Mediterranean constituted an extended zone of complex, interacting urban states during the 2nd millennium BC, the later Bronze Age in this region. This lecture notes ongoing changes in these core areas, but particularly explores their interaction with neighbouring regions, most of which became structured around centralised, palace-based economies. notably in the Levant, Anatolia and the Aegean (The latter in the form of Minoan and Mycenaean societies). Increasingly effective maritime connections le to the westward expansion of this network as far as Italy, with local connections beyond. Traditionally approached as the diffusion of civilisation from the Near East to Europe, current models are more dynamic and stress networks of active player, each with their own motivations.

Lecture 18: Case studies (i)Knossos on Crete (Todd Whitelaw)(ii) Bronze Age Connections (Andy Bevan)

6 items

Knosses in Crete is one of one of the most famous urban centres of antiquity, and provides an index of Mediterranean development over 8,000 years, from its foundation as one of the earliest Neolithic village in Europe, to become the largest centre of the Minoan civilisation, and an early Classical city-state. The lecture demonstrates how we can use new fieldwork to re-interpret over a century of intensive archaeological investigation.

Bronze Age Connections

4 items

Lecture 19: Stonehenge and Neolithic/Bronze Age Britain (Mike Parker Pearson)

7 items

Stonehenge was built in several stages between 3000 BC and 1500 BC, during the Late Neolithic and Early Bronze Age. It is the outstanding example of a group of monuments found across Britain that were built as ditched enclosures, relatively isolated from the Continent and from innovations such as metallurgy. The adoption of copper and gold accompanied major social changes that led to the demise of monument-building on this massive scale. Many people think that Stonehenge was built by aliens. This lecture will explore the actual reasons why it was built.

Bronze Age Britain - Michael Parker Pearson, Michael Parker Pearson 20050713488492,9780713488494

Book

Lecture 20: The World between 2000 and 1500 BC (Kevin MacDonald)

0 items

This final lecture of the first half of the 1-cu version of the course summarises and reflects on the unfolding of global prehistory so far, and offers a broad comparative survey of conditions and developments around the planet by roughly the end ofhte 3rd millennium BC. It intends to lay the foundations for a debate about the main patterns and processes witnessed to date. There is no additional reading, but a familiarity with the overall chronologies and mapping of such phenomena will expected. Enjoy the lecture - no readings!
All rights reserved ©
Profile Required
Reading intentions and notes are stored against your user profile. Please create a profile to use this feature.
My notes
You must be logged in to add a note
What are item notes?
You can use item notes to make personal notes on any of your reading items. Notes are private to you and will not be shown to other users.
You can review your item notes from the list, the item page or from your profile page.
---
How do I create an item note?
To make notes, first you must be logged in. Once logged in, simply click Add note? next to the list item you wish to make notes on. You can also make notes at the bottom of every item's detail page.
Your note will be saved automatically as you type.
Have you read this?
You must be logged in to set a reading intention
What are reading intentions?
Setting up reading intentions help you organise your course reading. It makes it easy to scan through your lists and keep track of progress. Here's an example of what they look like: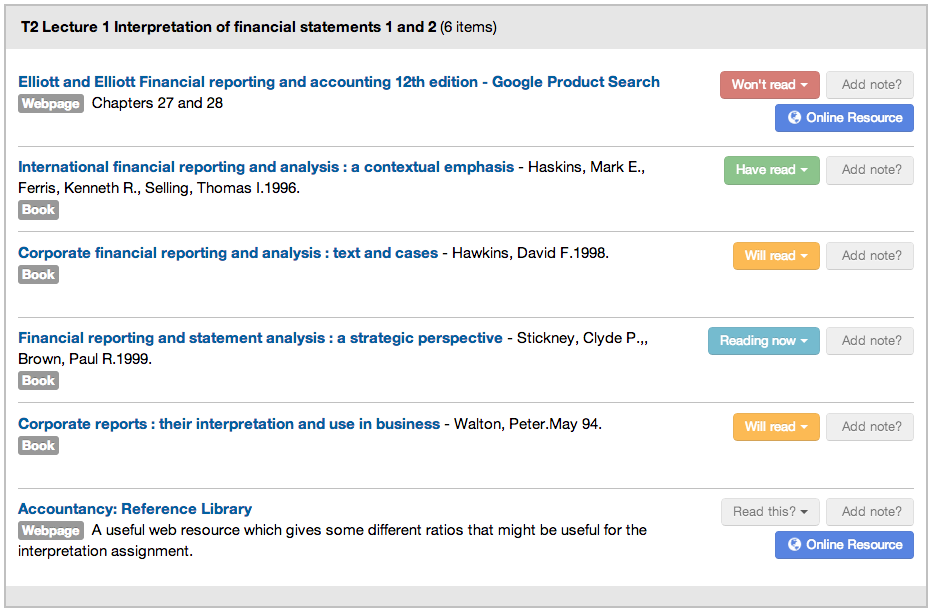 Your reading intentions are also stored in your profile for future reference.
---
How do I set a reading intention
To set a reading intention, first you must be logged in. Once logged in, click Read this? next to the list item you wish to set a reading intention for.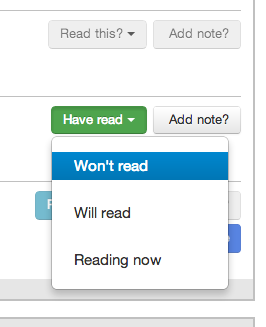 You can also set the reading intention from every item's detail page.