ARCLG117: Spatial Analysis in Archaeology: Data Sources, Sampling and Statistics: Andrew Haydn Bevan
Academic Year 2013/14
Archived
This list relates to the academic year Academic Year 2013/14 which ended on 01/07/2014
This list has been archived
General introduction

15 items

Course co-ordinator: Dr Mark Lake (mark.lake@ucl.ac.uk)

Postgraduate: option: 0.5 units
One term

Course overview

The course aims to provide:

A working knowledge of sampling.
A working knowledge of basic spatial statistics and inference.
An introduction to the use of remote sensing imagery.

Course information

For information about teaching methods, workloads, methods of assessment, examinations, coursework, communication, attendance and any special arrangements, see the course handbook

Lectures listing in order:

1 Elementary statistics (i)

2 Elementary statistics (ii)

3 Analysing point patterns

4 Analysing spatially continuous data

5 Analysing area data

6 Predicting location by multiple regression

7 More multiple regression

8 Spatially-weighted regression

9 Introduction to remote sensing imagery

10 Advanced use of remote sensing

Introductory readings and online references

There are no books that cover the full range of material introduced in this course, so you are strongly encouraged to consult one or more works from each section of the course reading list.
The following are good general texts covering subject matter of the course. Please ask if you required further advice.

Basic statistics (session 1)

Spatial statistics (sessions 3-8)

Local analysis - Fotheringham, A. Stewart et al. 20000761959483,0761959475

Chapter Digitised reading - pages 93-129

Remote sensing (sessions 9 and 10)
Lecture 1: Monday 1st October - Elementary statistics
6 items
Clive Orton
A (re)introduction to the basic concepts for those of you who somehow escaped them or need a little revision. The language and practice of statistics; inference and hypothesis testing.
Practical: How would you...? Design statistical tests to answer some archaeological questions.

Essential reading

Read one of the following:
Lecture 2: Monday 8th October - Elementary statistics
1 item
Clive Orton
The role of sampling in archaeological practice, at scales from regional to microscopic.

Sampling by design and sampling by accident.

Quality of sampled data.

Sampling for parameters and sampling for pattern.

Conventional and modern sampling designs.

Practical: Sampling in Oaxaca Valley: site densities and spatial patterns.
Fitzpatrick, A, "The structure of a distribution map: problems of sample bias and quantitative studies". in Rei Cretariae Romanae Fautorum acta., 25-6, In, 1987, pages 79-112. Note: ALTERNATIVE TITLE: '14TH CONGRESS OF RCRF'. [Held by Library]
SEE BELOW
Lecture 3: Monday 15th October Analysing point patterns
13 items
Clive Orton
Archaeological spatial data may be discrete (e.g. locations of sites in a region, or of artefacts on a site) or continuous (e.g. soil phosphate levels across a site). Different approaches apply to each.

First we look at techniques for analysing point patterns (i.e. locational data) - quadrat and nearest-neighbour techniques and 'second-order' methods.

Practical: Nearest-neighbour analysis of point-pattern data.
Lecture 4: Monday 22nd October Analysing spatially continuous data
8 items
Clive Orton
We move onto techniques for analysing continuous data, which are often obtained by sampling at a series of points. Analysis is often made more difficult by the phenomenon of autocorrelation.
Kernel density estimation, kriging and Bayesian statistics.
Practical: Defining the edge of a 'site' using sampled data values.
Lecture 5: Monday 29th October Analysing area data
7 items
Clive Orton
Locational data are often collected by areas (e.g. metre squares on a site or field in a region).
How does this affect the way we analyse them?
Techniques for analysing 'area' data. Issues relating to the scale at which data are analysed.
Practical: Compare analyses of locational data by point and area- methods.
Lecture 6: Monday 12th November Predicting location by multiple regression
11 items
Mark Lake
Introduction to statistical predictive modelling using linear logistic regression.
Practical: Preparation of data for construction of statistical predictive models.

Predictive modelling - Conolly, James, Lake, Mark 20060521793300,0521797446,9780521793308,9780521797443

Chapter pages 179-186

Click and sign in for e-dissertation
Lecture 7: Monday 19th November More multiple regression
3 items
Mark Lake
There will be no lecture this week, so please go straight to the AGIS lab, to begin the practical at 10:00 a.m.
Practical: Construction and evaluation of a statistical predictive model.
Lecture 8: Monday 26th November Spatially-weighted regression
5 items
Andrew Bevan
An introduction to methods of regression that take account of the lack of independence among spatial phenomena.
Practical: Spatially weighted regression of an archaeological dataset.
Lecture 9: Monday 3rd December Introduction to remote sensing imagery
5 items
Andrew Bevan
What is remote sensing imagery? How is it created and whate are its uses?
Practical: supervised and unsupervised classification of data.

Please also consult the following text, which is available through the AGIS LAB only.

Eastman, J.R. 'Introduction to remote sensing and image processing'. Idrisi for Windows: User's Guide, revision 5. Sections 3/1-3/18.

Eastman, J.R. 'Introduction to remote sensing and image processing'. Idrisi for Windows: User's Guide, revision 5. Sections 11/1-11/29.
Lecture 10: Monday 10th December Advanced use of remote sensing
2 items
Andrew Bevan
Introduction to advanced techniques of remote sensing.
Practical: data fusion techniques.

Essential reading

To be advised
All rights reserved ©
My notes
You must be signed in to add a note
What are item notes?
You can use item notes to make personal notes on any of your reading items. Notes are private to you and will not be shown to other users.
You can review your item notes from the list, the item page or from your profile page.
---
How do I create an item note?
To make notes, first you must be signed in. Once signed in, simply click Add note? next to the list item you wish to make notes on. You can also make notes at the bottom of every item's detail page.
Your note will be saved automatically as you type.
Have you read this?
You must be signed in to set a reading intention
What are reading intentions?
Setting up reading intentions help you organise your course reading. It makes it easy to scan through your lists and keep track of progress. Here's an example of what they look like: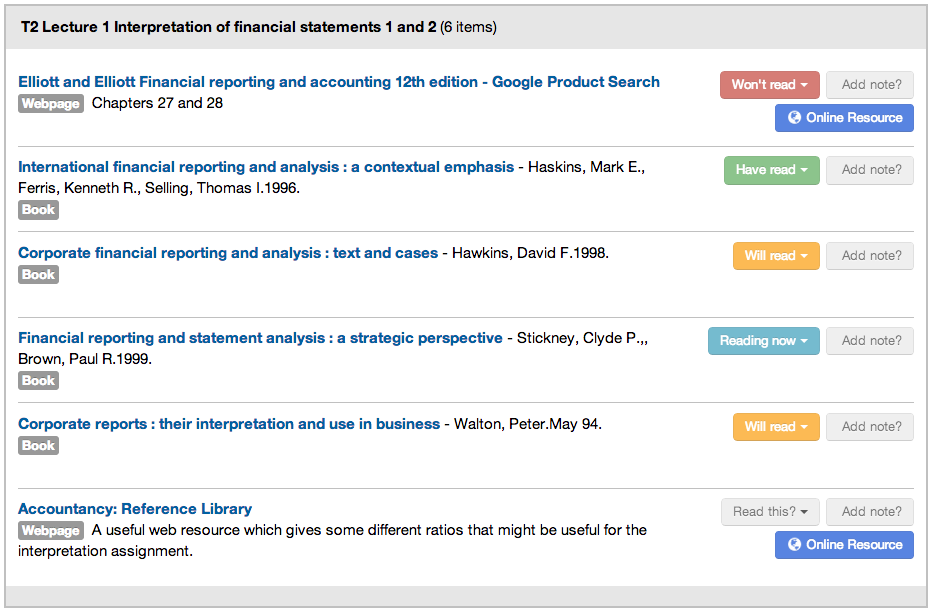 Your reading intentions are also stored in your profile for future reference.
---
How do I set a reading intention
To set a reading intention, first you must be signed in. Once signed in, click Read this? next to the list item you wish to set a reading intention for.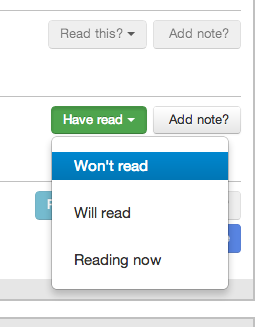 You can also set the reading intention from every item's detail page.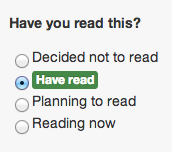 Profile Required
Reading intentions and notes are stored against your user profile. Please create a profile to use this feature.