This list relates to the academic year Academic Year 2015/16 which ended on 17/06/2016
This list has been archived
Text-books and catalogues

52 items

NB: The three versions of the book below are the same, different publisher.

The Celts - Sabatino Moscati, Ermanno A. Arslan, Daniele Vitali, Celts, the Origins of Europe (Exhibition) 19910500015244

Book

The archaeology of ancient Sicily - R. Ross Holloway 19900415019095

Book Focused on the Greek world. For an alternative that only considers the pre- and proto-history, see the following book

Session 1: The study of 1st-millennium BC Italy. Introduction to the course

22 items

For general scope on Phoenician and Greek archaeology in the Central Mediterranean

2 items

Session 2: History of Scholarship I: Italian archaeology

48 items

And, if time, the following two items:

Session 3: History of scholarship II: Magna Graecia and Punic Studies

53 items

Session 4: Landscapes and settlements

42 items

The impact of resource exploitation in the changing landscape

11 items

Session 5: Death and society: is that how we understand ancient Italy?

36 items

Session 6: City and state

76 items

On the French excavation at Megara Hyblaea

1 item

On urbanism and monumentality

29 items

Session 7: Cult and the sacred.

56 items

BM SESSION

If time, also the following two readings:

On Roman religion

2 items

Religions of Rome - Mary Beard, John A. North, S. R. F. Price 19980521304016,0521316820,0521450152,0521456460

Book

Session 8: Trade and mobility

51 items

If time, also the following reading:

Session 9: Italy, Rome and colonialism

59 items

If time, also the following two readings:

Session 10: Object-based presentations at BM

0 items

In this session, students will give brief presentations around an object of their choice from a selected group of artefacts in the relevant sections of the museum. Depending on student numbers registered for this course, the length of each presentation will be established with the aim of having a brief discussion following each presentation.
All rights reserved ©
Profile Required
Reading intentions and notes are stored against your user profile. Please create a profile to use this feature.
My notes
You must be logged in to add a note
What are item notes?
You can use item notes to make personal notes on any of your reading items. Notes are private to you and will not be shown to other users.
You can review your item notes from the list, the item page or from your profile page.
---
How do I create an item note?
To make notes, first you must be logged in. Once logged in, simply click Add note? next to the list item you wish to make notes on. You can also make notes at the bottom of every item's detail page.
Your note will be saved automatically as you type.
Have you read this?
You must be logged in to set a reading intention
What are reading intentions?
Setting up reading intentions help you organise your course reading. It makes it easy to scan through your lists and keep track of progress. Here's an example of what they look like: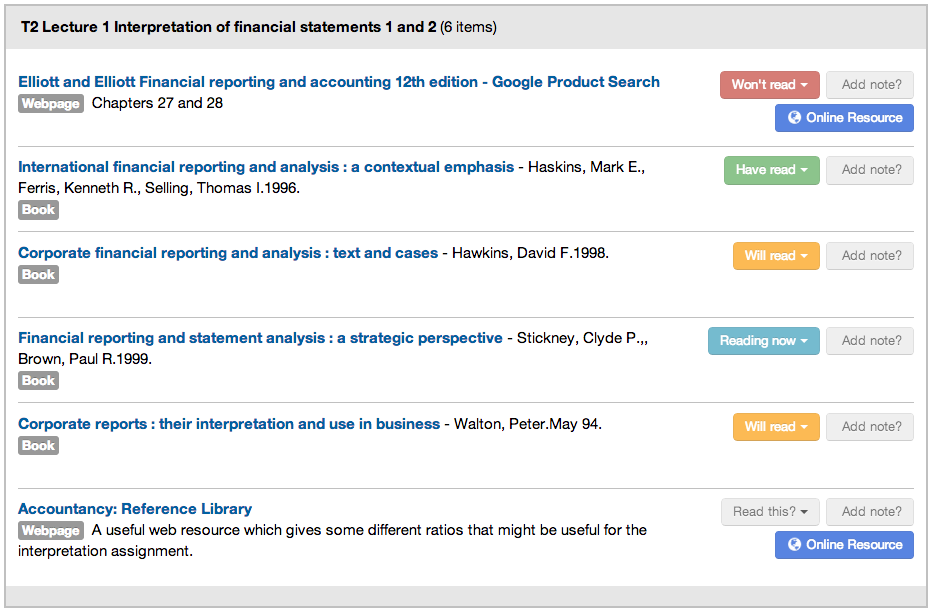 Your reading intentions are also stored in your profile for future reference.
---
How do I set a reading intention
To set a reading intention, first you must be logged in. Once logged in, click Read this? next to the list item you wish to set a reading intention for.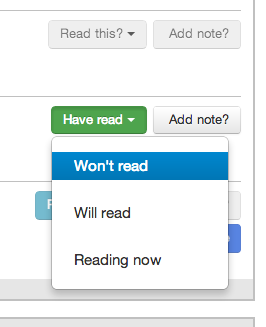 You can also set the reading intention from every item's detail page.