BENVGES5 : Adapting cities to climate change : David Dodman, David Satterthwaite
Academic Year 2011/12
Archived
Term: Two Assessment: Coursework (100%) Intensity: Fifteen (15) Credit GROUP WORK
This list relates to the academic year Academic Year 2011/12 which ended on 31/07/2012
This list has been archived
Term: Two Assessment: Coursework (100%) Intensity: Fifteen (15) Credit GROUP WORK The lectures will be supplemented by group work and group presentations. Time will be allocated for groups to work together, and group presentations will be used as a means to deliver information to all students.

The group assignment reflects the forthcoming Fifth Assessment Report of the Intergovernmental Panel on Climate Change, which has "Human Settlements, Industry, and Infrastructure" as one of its key areas of focus.

Each group will conduct a literature review on one of the chapter topics falling under this theme (Urban areas; Rural areas; Key economic sectors and services), using the guidelines prepared for authors of this report, and (where possible) using non-Anglophone literature.

The group work will be assessed through a group presentation, and through the preparation of an annotated bibliography (approximately 50 words on the key points and findings for each paper). ASSESSMENT The assessment for the module consists of a 3,000 word essay (90%) and group work (10%). Criteria for assessment are given in the course guide.

The essay will address either climate change impacts, vulnerability and adaptation in a particular city, or climate change impacts, vulnerability and adaptation in a particular sector. COURSE READINGS Each session of the module is based on the assumption that students will read the literature related to the topics under presentation and discussion.

To make this task easier, each session has two or three 'core readings' (those that appear above the line in the reading list).,Core readings are available in the online study pack which is available in Moodle.. It is expected that all participants will have read at least one or two of these 'key readings' before the associated lecture.

In addition, other readings are listed as a means of examining the topic – and different perspectives on it – more broadly. STAFF Dr David Dodman (Module Tutor) david.dodman@iied.org Dr David Satterthwaite (Module Tutor) david.satterthwaite@iied.org
Session 1: The impacts of climate change in urban areas (Dr David Dodman)
9 items
This lecture will provide an introduction to climate change and its impacts on urban areas. It will begin by describing the physical science of climate change and the likely changes that will take place over the next 20-50 years. It will define 'adaptation' and 'mitigation' and will describe the likely impacts of climate change for urban areas in Africa, Asia, and Latin America and the Caribbean.
Session 2: The contribution of cities to climate change (Dr David Dodman)
5 items
Activities taking place in urban areas are important contributors to climate change. This lecture examines the sources of greenhouse gas emissions, the scale of emissions from urban areas, and the factors influencing the extent of these.
Session 3: The distribution of climate risk I: the urban dimension (Dr David Dodman)
4 items
Although climate change will affect the entire planet, the ways in which the risks associated with this process are distributed are profoundly uneven. This lecture examines the changes in the extent of risk over time, and discusses the particular risks facing urban centres in low- and middle-income nations.
Session 4: The distribution of climate risk II: the social dimensions (Dr David Satterthwaite)
4 items
Even within cities, the distribution of risk is mediated through a range of physical, social, economic and political processes. This lecture focuses on the ability of different groups to cope with climate change (including the health implications for different groups), with particular attention to age, gender, and poverty.
Session 5: Resilience and Adaptation I: theoretical analyses (Dr David Dodman)
4 items
This lecture presents and discusses a range of approaches to understanding resilience and adaptation. These include strategic approaches used for developing infrastructure (including controlling the problem, coping with the problem, and avoiding the problem) and theoretical analyses used to frame the issues and responses (including resilience, social learning, and community-based adaptation).
JoAnn Carmin and David Dodman. Forthcoming. "Scientific Certainty and Uncertainty in Urban Climate Adaptation Planning." In Susanne Moser and Max Boycott (eds.), Successful Adaptation: Linking Science and Practice in Managing Climate Change Impacts. London: Routledge.

NOT HELD AT UCL
Session 6: Resilience and Adaptation II: lessons from practice (Dr David Satterthwaite)
8 items
Individuals, households, communities and cities around the world have begun to develop responses to climate change that meet their own particular needs. This lecture presents a variety of case studies to illustrate these responses.
Session 7: Urban governance for climate change (Dr David Dodman)
4 items
The capacity – or lack thereof – of urban authorities is a key determinant of the ability of cities to mitigate or adapt to climate change. This lecture examines the role of urban authorities in meeting mitigation and adaptation needs, and discusses the process of formulating and implementing city-based plans for addressing climate change.
Session 8: Cities as solutions: supporting mitigation, adaptation and development (Dr David Dodman and Dr David Satterthwaite)
7 items
The final lecture of the course integrates climate change with the many other pressing challenges facing urban areas in low- and middle-income countries. Urban responses to climate change take place within a much broader political and economic framework. This lecture discusses the interactions between urban, national and global processes for responding to climate change. This includes the potential for urban authorities to provide leadership, the role of cities in international agreements, and the global framework for financing adaptation is described. It discusses the synergies between adaptation and mitigation at neighbourhood, city and national levels; and proposes mechanisms for strengthening and supporting the process of "local development + adaptation". It also examines the role of innovative social (e.g. insurance-based) and ecological (e.g. 'soft' adaptation) mechanisms for meeting development and adaptation needs.
All rights reserved ©
My notes
You must be signed in to add a note
What are item notes?
You can use item notes to make personal notes on any of your reading items. Notes are private to you and will not be shown to other users.
You can review your item notes from the list, the item page or from your profile page.
---
How do I create an item note?
To make notes, first you must be signed in. Once signed in, simply click Add note? next to the list item you wish to make notes on. You can also make notes at the bottom of every item's detail page.
Your note will be saved automatically as you type.
Have you read this?
You must be signed in to set a reading intention
What are reading intentions?
Setting up reading intentions help you organise your course reading. It makes it easy to scan through your lists and keep track of progress. Here's an example of what they look like: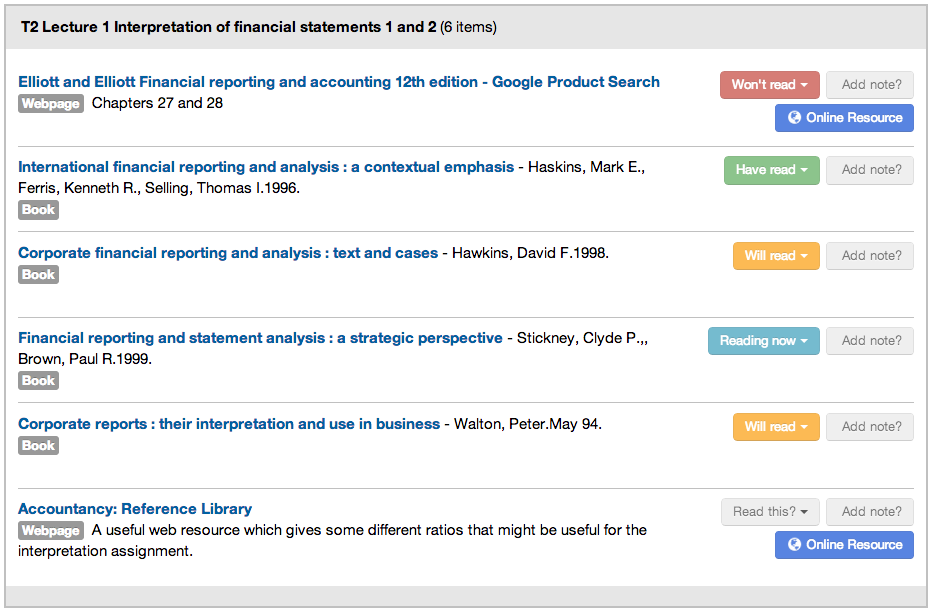 Your reading intentions are also stored in your profile for future reference.
---
How do I set a reading intention
To set a reading intention, first you must be signed in. Once signed in, click Read this? next to the list item you wish to set a reading intention for.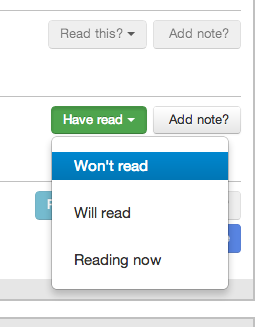 You can also set the reading intention from every item's detail page.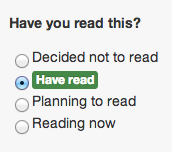 Profile Required
Reading intentions and notes are stored against your user profile. Please create a profile to use this feature.