This list relates to the academic year Academic Year 2013/14 which ended on 01/07/2014
This list has been archived
Introductory readings and online references

9 items

There are a number of good books that provide good introductions to lithic technology, terminology and methods of analysis.
If you are interested in lithic analysis, the Andrefsky, Holdaway and Stern, Odell and Inizan are good. For those of you who wish to try your hand at flint knapping, then the Whittaker is a useful reference.

The technology of knapped stone: followed by a multilingual vocabulary arabic, english, french, german, greek, italian, russian, spanish - Inizan, Marie-Louise, Roche, Hélène, Tixier, Jacques, Reduron-Ballinger, Michèle 1992

Book

The following articles give a good overview of the topic:

3 items
Week 1: Jan 13 METHODS OF ANALYSIS
22 items
Norah Moloney (UCL)

In this session we will discuss methods of lithic analysis, with a focus on the value and reason for employing particular methods. We will review the technological characteristics of knapped stone, as well as the basic definitions and terminology.

You will find any of the following useful:

The technology of knapped stone: followed by a multilingual vocabulary arabic, english, french, german, greek, italian, russian, spanish - Inizan, Marie-Louise, Roche, Hélène, Tixier, Jacques, Reduron-Ballinger, Michèle 1992

Book This takes a while to download
Week 2: Jan 20 RAW MATERIAL STUDIES
43 items
Elizabeth Bloxam (UCL)

The extraction of key raw materials for products such as tools, building elements and ornamental objects, is the beginning of a long sequence of events that creates an ancient production landscape. This lecture will discuss approaches to the visualisation of the often complex material remains that can constitute these archaeological landscapes (quarries and mines) in Egypt. We will consider how technologies of stone extraction can be interpreted from the archaeological record and its implications in how we understand the social context and organisation of these activities. This lecture will be followed by a practical object handling session.
Week 3: Jan. 27 LOWER AND MIDDLE PALAEOLITHIC TECHNOLOGIES
47 items
Norah Moloney (UCL)

We will discuss the Early Stone Age/Lower Palaeolithic technologies known from 2.60 to c. 0.25 Ma. These include Mode 1 flake production and Mode 2 shaping of Large Cutting Tools. We will consider the presence, nature and meaning of variation during this time period.

The Mode 3 technologies, the Middle Palaeolithic of Europe and Middle Stone Age of Africa, are characterised by distinctive set of forms produced by the Levallois technique, a planned method for obtaining predetermined flakes, blades and points.

Reading for the Mode 1 and Mode 2 technologies

5 items
Further readings for Mode 1 and 2 technologies
31 items
Reading for Mode 3, Middle Palaeolithic techologies
6 items
The technology of knapped stone: followed by a multilingual vocabulary arabic, english, french, german, greek, italian, russian, spanish - Inizan, Marie-Louise, Roche, Hélène, Tixier, Jacques, Reduron-Ballinger, Michèle 1992

Book
Week 4: Feb 3 UPPER PALAEOLITHIC AND MESOLITHIC TECHNOLOGIES
27 items
Matt Pope (UCL)

We will make use of the teaching collection to address the fundamental nuts and bolts of Upper Palaeolithic and Mesolithic technology. We will consider the defining features of Upper Palaeolithic technology, its evolutionary and chronological context. Consideration will also be given to the possibility of Neanderthal upper Palaeolithic technologies. Then we will look at the basic characteristics of Transitional and Mesolithic Industries. The lecture will focus on North West Europe, with more general consideration of variation elsewhere.
Useful reading: Mesolithic
10 items
Week 5: Feb. 10 POST PALAEOLITHIC LITHIC TECHNOLOGIES OF EGYPT
9 items
Noriyuki Shirai (UCL)

The Early-Middle Holocene saw fundamental changes not only in global climate and environment but also in human demography and subsistence. New lithic technologies and new types of tools that appeared in this period are called 'Neolithic'. They reflect humans' adaptation to new ecological conditions and subsistence needs, and also indicate new modes of technological knowledge transmission between toolmakers under conditions of increasing population and interaction. The lecture will focus on the Fayum in northern Egypt, where there is good information about the transition from the Epipalaeolithic to Neolithic and the cultural transmission between the Levant and Egypt, and discuss how new lithic technologies and new types of tools appeared and developed. The lecture will be followed by handling of Fayum Epipalaeolithic and Neolithic tools.

The desert Fayum - Caton-Thompson, Gertrude, Gardner, Elinow W., Royal Anthropological Institute of Great Britain and Ireland 1934

Book
Lecture 6: READING WEEK
1 item
No readings for this session
Week 7: Feb. 24 GROUNDSTONE TECHNOLOGY
14 items
Karen Wright (UCL)

Ground stone artefacts are any artefacts in which abrasion of stone played a key role in manufacture. They have received much less attention than chipped stone artefacts. Many basic questions about technology and analysis are still being worked out. However, ground stone artefact analysis involves many of the same issues that apply to chipped stone. Raw material sources, manufacturing sites and debitage have all been found, whilst ground stone assemblages display chaînes opératoires and other elements well known to lithic analysts generally. In this session we illustrate some of the basic methodologica issues using examples from the Middle East as case studies.
Week 8: Feb 24 LITHIC ILLUSTRATION AND PRACTICAL OBSERVATION
4 items
Norah Moloney (UCL)

When we draw tools we are forced to look at them carefully, to 'read' them. By 'reading' them we begin to understand more clearly how they were made, and what has happened to them. This helps in the practical study of the tools themselves, and in understanding lithic illustrations in publications. Artistic proficiency is not a requirement; you need to draw what you see. You will have more practise in drawing during the preparation of the lithic report to be.

Reading (for reference)

3 items
Week 9: March 3 EXPERIMENTATION IN LITHIC STUDIES / SEMINAR
33 items
Norah Moloney (UCL)

Experimentation, whether formal or "experiential", is essential to understanding lithic technology and may be used to inform research on issues ranging from production to use, discard, and entry into the archaeological record. Here we will focus on knapping techniques and learning behaviour, discussing controlled experiments in flake detachment, and replication of archaeological materials as well as more general experience with knapping that can be useful in hypothesis generation and archaeological interpretation.

Experimental archaeology in general

12 items
Lithic technology
4 items
Week 10: March 10 FUNCTIONAL ANALYSIS OF STONE TOOLS /SEMINAR
51 items
Norah Moloney (UCL) COURSE EVALUATION

Usewear analysis has had its peaks and troughs of popularity in the last 20 years moving between episodes of optimism and pessimism. We will consider the methods and objectives of use-wear analysis, and then concentrate on how usewear is able to contribute to studies of human behaviour using a selection of case studies.
Week 11: March 24 SITE FORMATION PROCESSES / STUDENT SEMINAR
20 items
Norah Moloney (UCL)

Understanding context is paramount before the accurate assessment of lithic material from a technological Perspective can be undertaken. This session will cover basic approaches to the processes underpinning the formation of lithic assemblages as encountered in the archaeological record. It aims to show how a close reading of sedimentary context and the application analytical techniques borrowed from faunal taphonomic and geological studies can elucidate the processes at work in forming an assemblage. Aspects of in-situ, disturbed and palimpsest signatures will be explored and practical applications of the following techniques undertaken in the class.

Size Class Distribution: Assesses the relative proportions of different size-classes of artifact. In undisturbed scatters smaller material will always be more abundant than larger pieces in numerical terms. Comparison of size-class distribution curves from excavated assemblages with experimental samples will show if material has been winnowed from, or introduced to, an assemblage by water action
Surface Trend Analysis. Spatial separation of different size classes of artefact shows disturbance of knapping scatters by natural or human agents.
Artifact orientation: Undisturbed scatters will show no preferred orientation. If any is found it can indicated the scale and direction of fluvial or colluvial movement.
Refitting. In knapping artifacts rarely move more than a couple of meters from the tool maker. Excessive refit distances and preferred orientation of refits can indicate disturbance.
All rights reserved ©
My notes
You must be signed in to add a note
What are item notes?
You can use item notes to make personal notes on any of your reading items. Notes are private to you and will not be shown to other users.
You can review your item notes from the list, the item page or from your profile page.
---
How do I create an item note?
To make notes, first you must be signed in. Once signed in, simply click Add note? next to the list item you wish to make notes on. You can also make notes at the bottom of every item's detail page.
Your note will be saved automatically as you type.
Have you read this?
You must be signed in to set a reading intention
What are reading intentions?
Setting up reading intentions help you organise your course reading. It makes it easy to scan through your lists and keep track of progress. Here's an example of what they look like: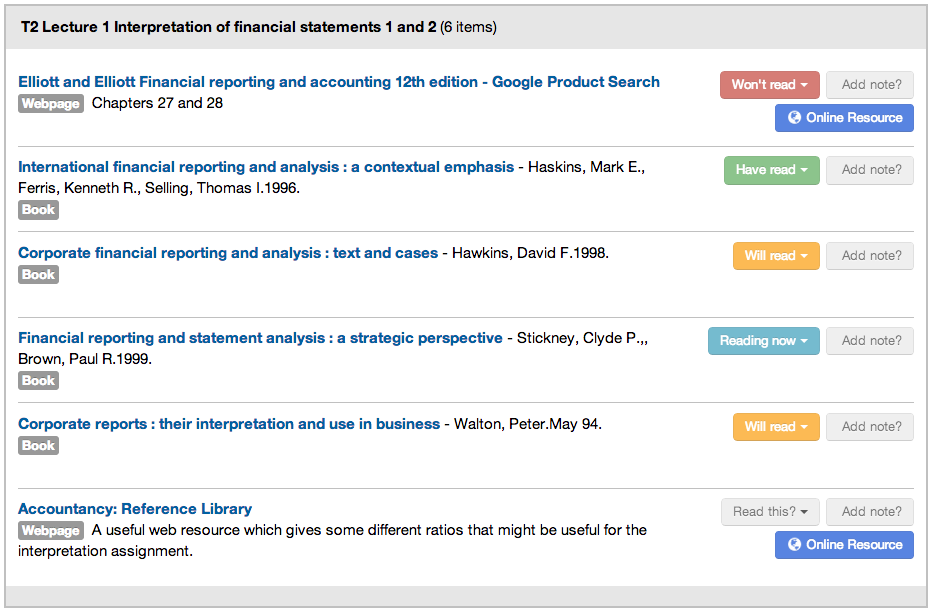 Your reading intentions are also stored in your profile for future reference.
---
How do I set a reading intention
To set a reading intention, first you must be signed in. Once signed in, click Read this? next to the list item you wish to set a reading intention for.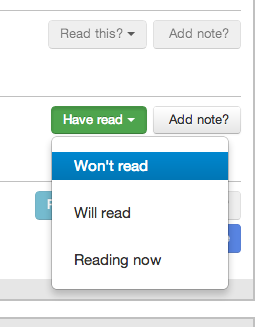 You can also set the reading intention from every item's detail page.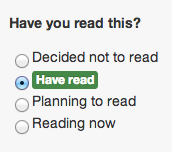 Profile Required
Reading intentions and notes are stored against your user profile. Please create a profile to use this feature.