ANTHGS02: Critical Issues in Social and Cultural Anthropology
Academic Year 2013/14
Archived
Dr Alex Pillen and Dr. Marc Brightman
This list relates to the academic year Academic Year 2013/14 which ended on 01/07/2014
This list has been archived
Module 1: Kinship. (Alex Pillen)

12 items

Seminar 2: What is kinship? 8.10.13

3 items

From Morgan to Fortes anthropologists assumed that they knew what kinship was about – the mapping of cultural difference onto biological fact. A fundamental challenge to this assumption has been to question if kinship is, in fact, the same kind of thing in all societies. This has led to different examples of the ways in which kinship is defined locally. A parallel concern is the move from functional and structural models of social relations to more processual and relational accounts, highlighting the ways in which kin relations are formed in practice, rather than given at birth.

Seminar 3: Descent and alliance 15.10.13

3 items

In this session we review classical assumptions in descent theory and examine ideas about consanguinity, inheritance, knowledge, power, and different kinds of connections. Yet kinship also requires the incorporation of non-kin outsiders to make future kin. Who one chooses to incorporate has far-reaching implications. It may establish alliances that reach beyond individuals. We will explore the idea of alliance theory, the exchange of goods and 'women' in marriage, and the incorporation of outsiders, or affines, as kin.
Seminar 4: Bodies and houses 22.10.13
3 items
Is kinship a question of shared bodily substance? What is the relationship between house, body, household and family? Are houses simply temporary physical containers or do they contribute to the making of kinship? This week we explore Levi-Strauss' idea of house-based societies and how a focus on the house destabilises previous paradigms in the anthropology of kinship based on consanguinity or affinity. Drawing on the work of Bourdieu, Carsten and Hugh-Jones we see how houses impact the lives of their inhabitants.
Seminar 5: Kin-based societies 29.10.13
3 items
This session explores the role of kin-based societies within a global political order. We postulate a continuum between kinship, familistic politics, and modern solidarities amongst strangers. The notion of a bourgeois public sphere becomes the yardstick for defining kin-based 'Public Spheres Yet to be Achieved' (Fischer). Can the alternative social imaginaries of internet and satellite TV become a focal point for ethnographic study? Are friends the new family? And can the classic paradigms of an anthropology of kinship take on the challenges of kin-inspired post-modern social formations?
MODULE 2: CRITICAL ISSUES IN THE ANTHROPLOGY OF RELIGION (Marc Brightman)
17 items
Seminar 6: DEFINITION OF RELIGION, BELIEF AND LEARNING TO BELIEVE 12.11.13

4 items

This seminar will cover anthropological debates and controversies over the definition of religion and explore the problem of belief, a key concept in anthropological analysis of religion. We will consider the genealogy and utility of propositional beliefs (I-believe-that statements) and focus on the processual quality of belief, that is, how people come to believe something that might strike us as irrational and why people are capable of believing and doubting at the same time.

Required Readings:

4 items
Seminar 7: MODERNITY OF WITCHCRAFT AND TECHNOLOGIES OF MAGIC AND SCIENCE 19.11.13
4 items
This seminar will cover crucial ethnographic descriptions of witchcraft and review anthropological explanations of witchcraft and its commensurability with Western science and technologies. The aim is to gain analytical proficiency in theoretical debates over functionalism, relativism, instrumentalism, and 'primitive mentality'.
Required Readings:

4 items
Seminar 8: RITUAL, CONTROL, AND RITUAL CHANGE 29.11.13
4 items
Rituals are creative and subversive of pragmatic authority, power relations, and personal selves. They have a more-or-less invariant and recognizable historical form although a ritual under the same name might differ from one place to another. Despite the aura of timeless tradition and authenticity that validates many rituals, rituals can be pulled apart, transferred or transformed by multiple socio-political and spiritual forces, including nationalism, religious reforms and conversion. Ritual agents might be declared frauds. Rituals are also accidents waiting to happen. This seminar revises anthropological theories of ritual that have emphasized formal and enduring aspects of ritual practices and attends to the questions of ritual change and ritual failure. The aim is to demonstrate social, performative, and even semantic precariousness of rituals and draw attention to human agency that makes a ritual a success or a washout.
Required Readings:

4 items
Seminar 9: SOCIETY, DISENCHANTMENT AND REENCHANTMENT 3.12.13
5 items
It is a widespread popular and academic assumption that 'religion' is in decline. Indeed, several influential thinkers like Karl Marx and Emile Durkheim announced the end of religion in the 19th and early 20th century. Despite the legacy of Marxist and sociological approaches to religion, anthropologists tend to argue that religions are not dying out; rather many traditional forms undergo a transformation, new religions are established and secularism, understood narrowly as a separation of religion and politics, is not a foregone conclusion. While certain localised systems of belief and practice may be dwindling, certain religious movements, such as evangelical Christianity, are indeed expanding. This seminar will take both sides of the debate seriously and will illuminate the circumstances under which religion is struck out as a superstition or backward practice, and how religion remains resilient and influential in other contexts.
Required Readings:

5 items
All rights reserved ©
My notes
You must be signed in to add a note
What are item notes?
You can use item notes to make personal notes on any of your reading items. Notes are private to you and will not be shown to other users.
You can review your item notes from the list, the item page or from your profile page.
---
How do I create an item note?
To make notes, first you must be signed in. Once signed in, simply click Add note? next to the list item you wish to make notes on. You can also make notes at the bottom of every item's detail page.
Your note will be saved automatically as you type.
Have you read this?
You must be signed in to set a reading intention
What are reading intentions?
Setting up reading intentions help you organise your course reading. It makes it easy to scan through your lists and keep track of progress. Here's an example of what they look like: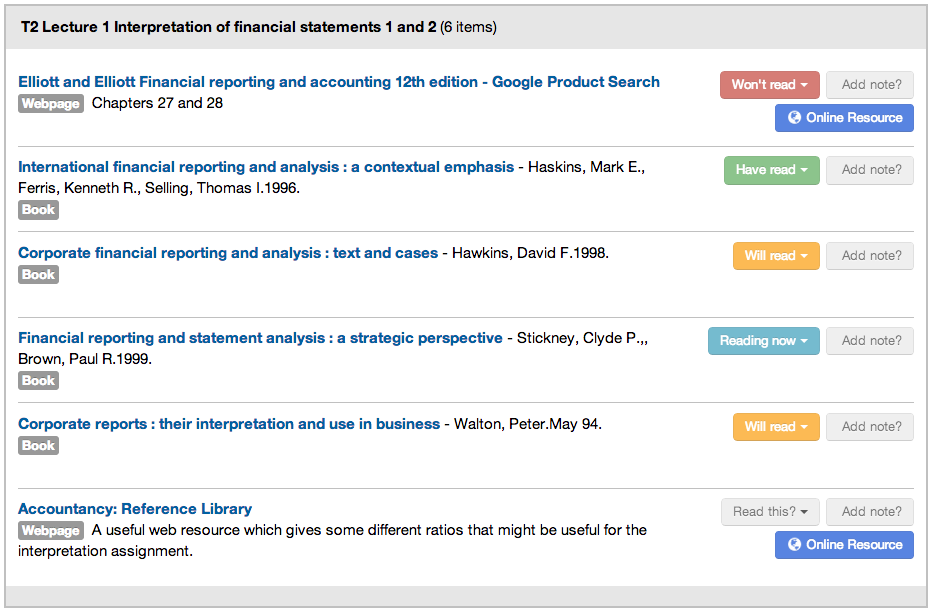 Your reading intentions are also stored in your profile for future reference.
---
How do I set a reading intention
To set a reading intention, first you must be signed in. Once signed in, click Read this? next to the list item you wish to set a reading intention for.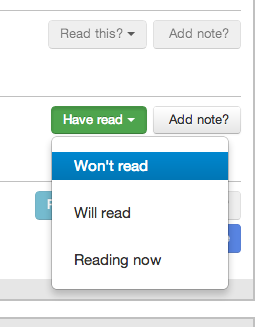 You can also set the reading intention from every item's detail page.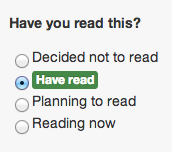 Profile Required
Reading intentions and notes are stored against your user profile. Please create a profile to use this feature.